Audio & Hifi
Top Audio brands

Our Audio and HiFi recommendations
Audio and HiFi
Why buy Audio and HiFi?
Good sound is an essential part of the home cinema experience, surround sound provides atmosphere. An AV receiver and surround speakers are an unbeatable home cinema duo.
The built-in speakers of a projector have low volume and poor sound quality. Even for education and business, external projector speakers make a huge difference.
An unforgettable music experience is only possible with high quality speakers. Hi-Fi speakers produce the finest details from your music.
With high quality audio you make your customers, guests or visitors happy. Satisfaction all around!
HiFi & Home cinema
In home cinema, good sound is crucial. An authentic home cinema atmosphere can only be achieved with a suitable and powerful sound system.
Even a 4K TV needs a good sound. The built-in TV speakers alone are often not sufficient to support the high-resolution image. In addition, a hyperrealistic gaming experience is only possible with a surround sound system. A home cinema system is therefore indispensable.
For audio purists, good, clear sound is a must: They swear by high-quality, high-performance digital and analog players such as record players, high-end Hi-Fi systems and multiroom speakers.
Quality is crucial! Thankfully you can find quality at an introductory price.
AV Receiver
An AV Receiver is the powerful control center of your home theatre. It amplifies and distributes audio signals, evaluates video signals and connects various multimedia devices and speakers. This allows you to centrally manage multiple playback devices such as Blu-ray players, notebooks and projectors from an AV receiver.
An AV receiver is the control center of your home cinema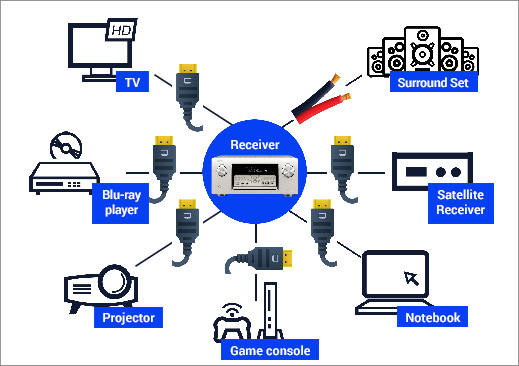 AV Receiver for Home cinema
Many AV receivers offer 4K upscaling. In this process, the receiver scales the Full HD video signal to 4K UHD format. This is a useful feature for home cinema. Because on large screens, high-resolution images look better.
Integrated amplifier
Most AV receivers have integrated amplifiers. That means they already have an integrated preamp and a power amp. This gives you all the components for a fully-fledged home theatre system in one device.
By the way: We also sell complete home theatre systems as sets. They consist of an AV receiver and several speakers for surround sound.
5.1 Surround sound and more
An AV receiver has at least 5.1 channels (5.1 surround), which work together to create surround sound and immerse you in the atmosphere of a movie or concert.
Almost all AV receivers support multi-channel sound systems such as DTS or Dolby Digital. Some models can even play HD audio formats such as Dolby TrueHD and DTS-HD Master Audio. With this lossless technique of audio playback you can be even more immersed in superior sound.
The true sound wizards are AV receivers with 11.2 surround: Eleven speakers and two subwoofers take you right into the action of a Hollywood blockbuster. Remember, however, that the space in which you want to install your 11.2 surround system must be large enough. Because only then is the space-filling effect able to make the difference.
3D audio
To further enhance the effect, we recommend an AV receiver that supports Dolby Atmos, DTS: X or Auro 3D. In conjunction with ceiling speakers or Atmos-enabled speakers, these surround technologies create an unprecedented three-dimensional sound.
Gentle summer rains, passing flocks of birds or thundering turbines of an airplane: all this really feels good with Dolby Atmos. Because the sound is coming from above.
HiFi amplifiers & power amplifiers
Hi-Fi amplifiers & power amplifiers do what they say on the tin and amplify the stereo audio signals of the connected devices, be it a CD player, turntable or another player. Compared to AV receivers, hi-fi amplifiers are designed for pure audio enjoyment and they deliver at the highest level
We offer both high-end hi-fi amplifiers and hi-fi stereos. We also offer the latter as compact mini hi-fi systems with two loudspeaker boxes. They are perfect for a cozy living room.
Network Player & Multiroom Speaker
Network players and multiroom speakers free you from the clutter of bygone days and open the way to the WiFi world of audio streaming.
A network player connects your hi-fi system to the Internet and your home network. If desired, you can also connect all network-enabled devices such as smartphones or tablets with a network player. This allows you to stream audio playlists from online streaming services (such as Spotify, Deezer) or your MP3 music archives directly to your music system.
Many network players support Bluetooth wireless standard or Apple AirPlay, which allows you to access your iTunes library.
In addition, most modern network players can also play lossless audio formats such as FLAC and ALAC. Lovers of high-quality music will get their money's worth here!
Multiroom speakers extend the enjoyment of music to several rooms. You can set up these loudspeaker boxes in your living room, bedroom or kitchen as you like and control them via a multiroom app.
You set the music selection for each room individually or synchronize all rooms with each other. This works wirelessly via WLAN. The combination with a network player is ideal.
Soundbar
Soundbars are a great partner for your TV. They are smart, slim and above all many times more compact than a home cinema system. If you do not have room to set up surround sound, then a soundbar is a real alternative to a conventional surround sound system.
A soundbar improves on the sound from your TV. A soundbar is a narrow, elongated box with multiple speakers and often an additional separate subwoofer. This is usually wireless and can be placed at will.
A subcategory consists of so-called soundbases with integrated subwoofers. Due to their flat design, you can stand your TV directly on top. Soundbars, on the other hand, are placed below the screen or mounted on the wall.


Simply Connect
Game consoles, Blu-ray players and other players can easily be connected to the soundbar via HDMI cable, coaxial cable, optical cable (Toslink), WLAN or Bluetooth, depending on the model of the soundbar.
The connection via HDMI cable has a big advantage: you no longer need an additional audio cable. Audio data is exchanged via the HDMI cable alone. Provided you have a TV and a soundbar that support ARC (Audio Return Channel).
Speakers
At home, you can room to get creative. Using several speakers you can put together an impressive home cinema system.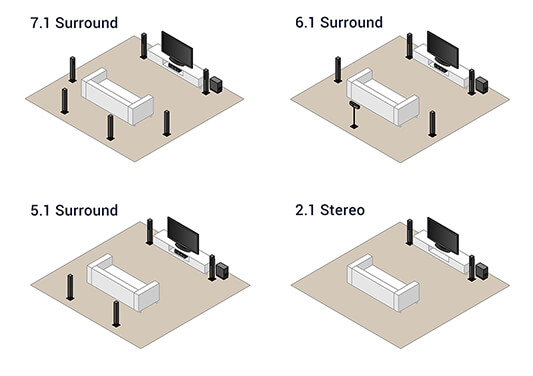 This can be achieved with individually selected loudspeakers. With two tower speakers and two bookshelf speakers along with a centre speaker and a subwoofer: you already have a classic 5.1 surround set! With appropriate multi-channel support for your AV receiver, you can install a 7.1 or even a 11.2 home cinema system.
Speakers for High End Home Cinema
For an top end home cinema experience, we recommend an AV receiver that supports Dolby Atmos. You can connect additional ceiling speakers or Dolby Atmos-enabled speakers to such a receiver. With it you create a world of sound with addictive potential.
Bluetooth speaker
A Bluetooth speaker is the undisputed champion among mobile speakers. This is due to its features: It is compact, mobile and can very quickly connect to your smartphone or any other Bluetooth-enabled device.
With the help of the NFC (Near Field Communication) feature, which many portable speakers have, it's lightning fast. All you need to do is hold your smartphone for a moment on the Bluetooth speaker.
Some mobile speakers also function as a charging station (power bank). You enjoy the music and at the same time charge your smartphone or tablet via a USB interface.
Bluetooth speakers can be used, as a beach speaker or as a party speaker for your BBQ in the garden. But you do not have to take them outside! Just think of a relaxing hot bath in combination with your favorite music. That sounds good!
Most mobile Bluetooth speakers are splash-proof and insensitive to dirt and dust.
Speakers for listening to music
For music enjoyment at home, the stereo set-up of two floorstanding speakers has proven itself. Popular here are 3-way speakers. These each have their own loudspeaker chassis for each frequency range: tweeter, midrange and woofer. Together, they provide differentiated sound and top quality in stereo playback.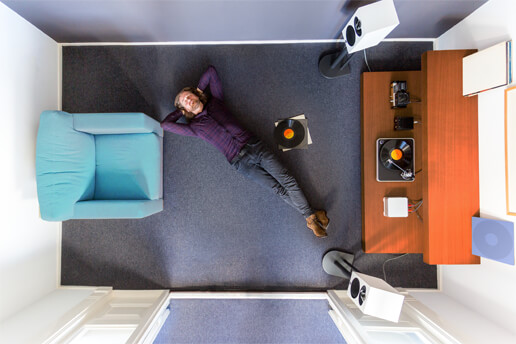 Floorstanding loudspeakers can be aligned as desired and thus adapted to the listening position on your very own chill-out sofa. From here you can also best admire the noble look of these audio masterpieces.
By the way:We also have complete speaker sets for stereos and home cinema. Our experts will explain which set best suits your AV receiver or a hi-fi amplifier!
Professional Audio
Professional conference systems and public address systems are an integral part of modern business. Simultaneous and above all trouble-free communication, for example at international meetings, conferences and business meetings, is crucial for business success.
Loudspeaker systems have long since become a professional standard in retail and gastronomy. Because music influences the purchasing behavior and has a positive effect on customer satisfaction.
A short "What's What?" For a quick start:
Conference System
A conference system enables simultaneous, location-independent communication between the conference or meeting participants. Conference systems can be wired or wireless.

We offer both pure audio conferencing systems and video conferencing systems. For Internet telephony we recommend a VOIP system (Voice Over IP).


Professional speakers
Basically, a distinction can be made here between different types of speakers.

Built-in loudspeakers can be embedded in a ceiling as well as in a wall.

Most built-in loudspeakers are equipped with a mounting system that makes mounting and fixing the loudspeakers much easier. Built-in loudspeakers can be used wherever you don't want them noticed: for example, in meeting rooms or lecture rooms.

Cabinet speakers are usually attached to a wall bracket and aligned to suit. This type of speaker is popular in bars and restaurants.

Horn loudspeakers are classic announcement and alarm speakers. You will often find them in public institutions such as schools but also in factory halls and on premises both indoors and outdoors


Professional amplifier
Above all, professional amplifiers stand out from the classic hi-fi amplifiers in that they have been developed for use with the 100 volt technology and have a limiter.

The 100 Volt technology allows simultaneous operation of several 100 Volt loudspeakers on a large area and in several areas simultaneously. Long cable runs (even over 100 meters) with relatively small cable cross-sections are no problem. Cables with large cross-sections are expensive so with a 100 volt system you can save money.

The volume of individual loudspeakers can also be adjusted individually for a 100 volt system. For the retail trade, it is an important feature: The volume of the music should not drown out the voice of the cashier.

A limiter prevents loudspeaker overloading at high input levels by intervening early in signal processing. This not only protects your hearing and that of your customers, it also protects the speakers from permanent damage.