Casio projectors for your school
Longevity, energy efficiency and low operating costs - these are just some of the reasons why Casio projectors are particularly interesting for use in your school.
Advantages of the long-lasting Casio projectors
Thanks to the innovative laser and LED hybrid light sources, Casio projectors are particularly energy-efficient and environmentally friendly.They can be operated for up to 20,000 hours without maintenance, which during the same period with a traditional mercury vapor lamp projector, you could need nine new lamps! The mercury-free laser and LED hybrid projectors offer up to 4 times longer runtime than projectors with conventional lamps. Since the operating costs are very low, the Casio projectors are ideal for use in your school. The laser and LED hybrid projectors make your school life easier, save costs and protect the environment!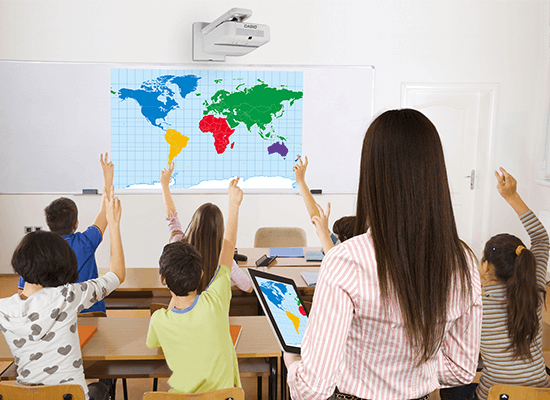 Benefits at a glance
Intuitive operation
Long lifetime
Brilliant colour reproduction
Energy efficient
24/7 continuous use
Direct On / Off
Low operating costs
Low maintenance
To the Casio Education Projectors
Overview of the Casio series
Core series
Cost-effective & mercury-free projections
Ideal for entry level use
To Core Series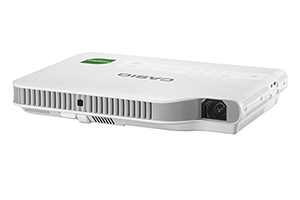 ---
Advanced Series
Perfect & bright all-round talent
Ideal for installations and mobile use
To Advanced Series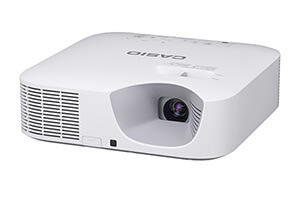 ---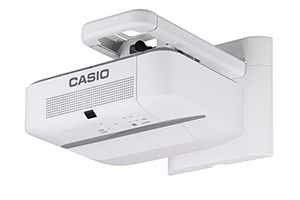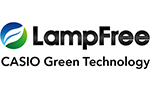 The laser and LED hybrid technology
The laser and LED hybrid technology developed by Casio is mercury-free and energy-saving. The advanced semiconductor light source technology allows you to achieve a light output of more than 2,000 lumens.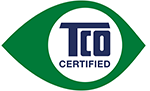 TCO-certified models
Die vier Casio Modelle XJ-V100W, XJ-V110W, XJ-F100W und XJ-F210WNWith Casio projectors you save money! Compared to projectors with a conventional lamp, Casio's long-lasting Education projectors offer up to 4 times longer runtime. Calculate your potential savings with the Casio cost calculator now.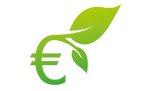 Save energy and costs
Mit Casio Beamern sparen Sie bares Geld! Im Vergleich zu Projektoren mit herkömmlicher Lampe bieten Ihnen die langlebigen Education Projektoren von Casio eine bis zu 4-fach längere Laufzeit. Errechnen Sie jetzt Ihr Einsparpotenzial mit dem Casio cost calculator.
All Casio Education projectors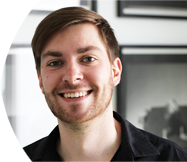 Do you still have questions about the selection of your projector? We can also advise you personally - we look forward to your call or e-mail! If you prefer to be called back by us for free, just leave us your contact details.
Contact form Contact person