Company Profile
visunext.co.uk / Projectorshop24 is a division of the visunext Group, one of the largest and most important home cinema and presentation technology providers in Europe. Initially launched in 2003 in Germany, the group has quickly established itself right across Europe, now with eight other sister companies active throughout Europe.
The most profitable segment of the group visunext.co.uk / Projectorshop24 addresses itself exclusively to consumers and offers a full range with more than 10.000 products of all well-known manufacturers. The company benefits from strong partnerships with the most relevant AV manufacturers, such as Acer, Benq, EPSON, Optoma, Panasonic, Samsung and many more. Another important part of the group is celexon. They are responsible for the international production of accessories such as screens, mounting systems, signal management, etc.as well as the supply of these products to distributors and retailers.
Since its launch in August 2004, visunext.co.uk / Projectorshop24 has already served more than 800,000 customers in more than 25 countries. These include many well-known global players, such as Allianz, BMW, Bosch, Burger King, Daimler, Deutsche Lufthansa and many more.
Projectorshop24 became visunext in August 2018
In August 2018, Projectorshop24 was renamed as visunext. The new brand name immediately signals the clear commitment to offer up-to-the-minute visual solutions; regardless of which product technology is most suitable for the customer.
Company details
Founding year
2003
Headquarters
Emsdetten, Germany
Affiliated companies
France, UK, Netherlands, Sweden, Spain, Poland, Italy, Austria, USA
Employees
> 150 employees*
Customers
800.000*
Turnover
80,2 M Euro*
Shareholders
Matthias Hemesath, Christoph Hertz
Executive Director
Christoph Hertz
COO
Dr. Axel Niclas
* as at March 2020
Corporate Philosophy
With us you can expect qualified and personal advice from trained product experts. With our focus on visual product solutions, such as projectors, interactive touch displays, large-format displays or LED walls, we can offer you excellent product know-how.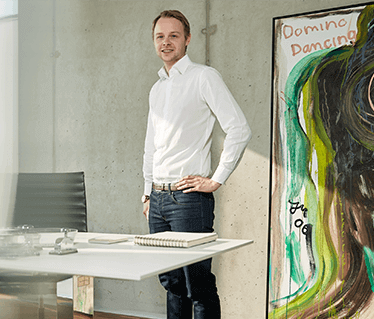 Founder and CEO Christoph Hertz
It does not matter whether we are supporting your entry into the world of displays or projectors and screens or realising a major project together.
Through wholesale acceptance and close ties to the most important manufacturers you will always find attractive offers. Our ambition is to inspire you and through our own warehouse with a wide availability of thousands of products, we know we can supply you with the right product. We constantly strive to stock spare parts to help you quickly in case of damage. As a professional provider, we have a long-term partnership at the forefront of our philosophy!