History & Perspectives
The shareholders Matthias Hemesath (*1983) and Christoph Hertz (*1984) gained experience in Internet trading and the concept and implementation of websites during their school years.
Their first venture was the sale of second hand projectors. At the beginning, the company traded returned products and later with large remnants from well-known manufacturers. This progressed into the vision of Beamershop24, the precursor to visunext. In the year 2004, Beamershop24 began in Germany. In parallel, Hemesath and Hertz created the brand "celexon" for the production of screens and ceiling mounts. Since 2009 Projectorshop24.co.uk (now Visunext.co.uk) is operating in Great Britain.
Strong partnerships with manufacturers and customer-oriented thinking have made Beamershop24 one of the largest providers of projectors in Germany. For three consecutive years, Chip honored the online portal for Best Shop of the Year in the projector category. Also Testsieger.de chose it twice in a row to the best online shop for projectors. Beamershop24 has achieved a leading market position and is one of the most popular home cinema and presentation technology shops in Germany.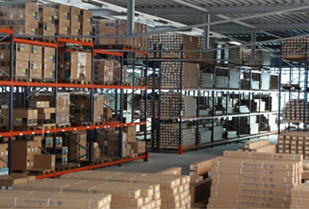 The warehouse with more than 200,000 items
visunext
An exciting new chapter in the history of the celexon Group: the rebranding of the successful Projectorshop24.co.uk. Since August 2018 Projectorshop24.co.uk is now called visunext.co.uk. The new brand name immediately signals the clear commitment to offer up-to-the-minute visual solutions; regardless of which product technology is most suitable for the customer.
After several European and international expansions as well as the acquisition of one of the largest national competitors 'Projektor AG', the bundled companies are now active in the market as visunext Group. With the claim "Smart visual solutions", the Group's activities essentially offer its customers visual product solutions, such as projectors, interactive touch displays, large-format displays and even LED walls.