Conference systems
Creating a modern digital workplace for the best video conferencing at home or in the office
Webcams and video conferencing equipment have become a crucial part of modern business. The ability to have high quality online meetings without the need for travel and congregating in large groups is a top priority for a lot of companies. Here we will look to answer some of the most popular questions surrounding video conference systems, webcams and other meeting rooms tools to help you create your own digital workplace.
Are webcams better than a laptop camera?
This is a resounding yes! While inbuilt webcams do a job and will get you involved in your next online meetings, the quality is often pretty poor due to the size constraints of fitting a camera into a slim laptop screen. There are a whole host of webcam options available from small units that clip onto your laptop screen or larger units that sit on top of a desk or are mounted on a large conference room display. All of them will have far superior image quality to that of your inbuilt webcam, some of them even have the ability to track your movement and zoom in on the relevant person even if they are right across the room, see PTZ cameras, but more on them later.
How do I connect a webcam to my computer?
Most webcams will just be a simple USB connection to your computer, plug and play means that you'll be able to make a video call in no time at all. You'll find higher quality 4K webcams may require the latest USB connection to be able to transfer 4K content, so check you have a USB 3.0 connection available. If you are looking at a more elaborate conference system suitable for multiple attendees that will give you the best video conferencing then chances are it will come with a hub system that has HDMI and USB connections.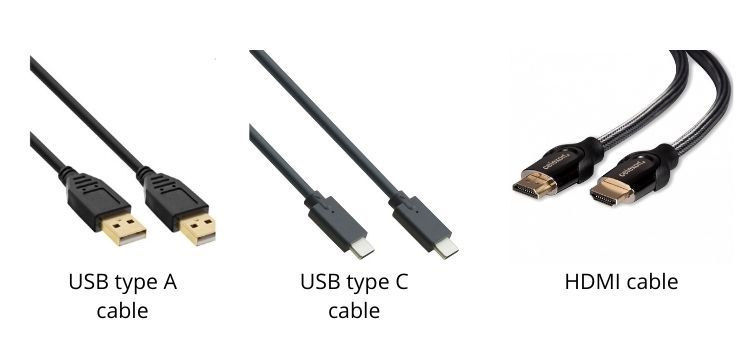 Our top picks for webcams
Is a 4K webcam worth it?
Getting yourself a webcam with a higher resolution will mean people on the other end of your video call will be able to see you in all your glory, so make sure you look your best! A high quality 4K webcam will result in a high quality picture, more like you are actually in the room than just a grainy picture on a screen. Some of the cameras have extra technology built in to ensure good light balance and colours to ensure natural skin tones are captured. However, for most individual users a 1080p camera is more than capable of producing a good looking image, look to 4K if you are getting a camera for a larger meeting room and want the best video conferencing set up.
What is the best way to video conference?
In the past an audio conferencing system may have been the limit for out of office group communication but now you can buy video conferencing solutions and show your face in meetings too. For home office, a basic set up consisting of just a webcam will suffice, they will often have microphones built in to them, but you may find that you need to use headphones to stop the sounds you are hearing being heard by all attendees of the video conference. If you are setting up a video conference solution for the meeting or conference room of your office for multiple users, then a more elaborate video conferencing system will be the way to go. These will often have a PTZ style camera (Pan, Tilt, Zoom) along with multiple microphones that can be positioned at convenient locations on the desk to maximise the number of users. You may have used conference microphones in the past as part of an audio conferencing system so there will be some familiarity here. Some systems will even offer a touchscreen interface that allows control of the whole conference from the desk, rather than having to go via a computer. These systems will often seamlessly integrate with popular video conferencing software such as Google hangouts, Skype, Microsoft Teams and Zoom.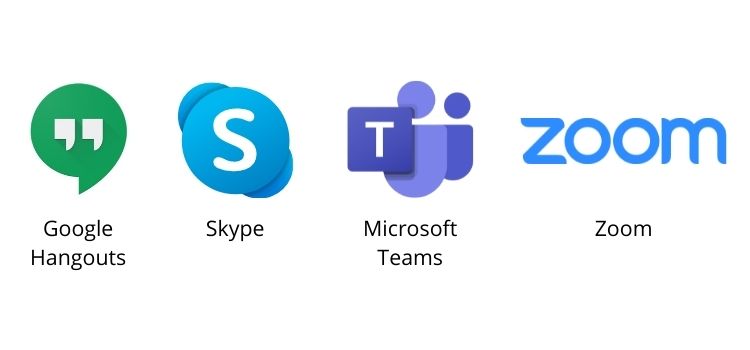 What do you need for a video conference?
As we touched on above, there are a range of systems available for video conferencing and what you go for will really depend on the number of people in attendance at your venue. The microphone and camera are key elements of your video conferencing hardware but you'll also need a computer to run the software (Zoom, Teams, Hangouts etc) and most importantly you will need an internet connection! If this is a set up for a meeting room you'll also want to have a way of showing a large image so that all of the attendees can see the conference, this could be a projector or a large format display. An interactive display is probably the go to option here if budget allows as it grants the possibility of interacting and presenting your content directly on the device for all of your attendees to see right across the globe! Speak to one of our advisors for a complete set up, big or small and get yourself the best video conferencing equipment.
All-in-one solution
Manufacturers have adapted to the continuing trend of video conferencing and developed high-quality systems that combine all important components in one piece of equipment. These all-in-one systems offer the perfect introduction to the world of video conferencing. Depending on the size of the room and the seating arrangement in your meeting room, only a few accessories, such as additional microphones, are necessary.
Instead of three devices (loudspeaker, microphone and camera) you only have to connect one
Ready to use quickly
Cheaper than buying the devices individually (models start at around £ 499.99)
Less tangled cables
Appears discreet and modern in the conference room
We have picked out some of the best Video conferencing and all in one solutions
What does PTZ mean?
PTZ stands for Pan, Tilt and Zoom! These cameras are typically found in larger meeting rooms and mean that the camera doesn't always have to be pointed at one subject. This gives you the freedom to have multiple users sat in their seats rather than having to come to the camera to present. Some cameras will allow you to track the subject as they move around the room, which is great for those who like to express themselves while giving a presentation and really seal the deal in your next web meeting!
Are PTZ cameras worth it?
This really depends on your setup, if you just need a webcam for one user, then no, chances are you do not need to invest in a PTZ camera. If it's for your company boardroom and there will be multiple attendees of your online meeting in the same location, a PTZ camera can make your life considerably easier in the long run! That's not to say that a PTZ camera can not be used at home, but you just need to decide if you need the ability to remotely control the position of your camera or have great levels of zoom.
Will my webcam work with Zoom?
Yes! All webcams will usually work with all conference call services on the market, so whether you want to use Zoom, Google Hangouts, Microsoft Teams or Skype, your webcam should work with all web conferencing tools.
Take a look at these video conferencing solutions for Teams and Hangouts
How can video conferencing be used in education?
Remote learning is becoming a crucial part of education and a good online video conferencing system can ensure that you give your students the best possible results. A good webcam is crucial to get your message across and there are a whole host of other hardware that can enhance the experience. A document camera will allow you to show books and other content in high quality to people on your video call, this can be key for topics that require you to show items to your students, think experiments in science or looking at old artefacts for history. A more expensive but incredibly useful addition would be an interactive touch display which allows you to interact and manipulate content on screen and share your annotations along with the whole screen with all video attendees. These two video conferencing tools for teachers can allow you to take your educational video conferencing to the next level!
What webcam should I use for streaming?
It's important to look for units that are capable of capturing footage at 1080p or even better, 4K. You'll also want to look for something that can capture a high frame rate, 60fps if you can get it but 30fps will be ok too. Looking for other features such as autofocus will make things much easier for you too, especially if you find yourself moving around, while some cameras offer greater compatibility with background replacement applications which can be handy depending on your style of video. If you are a gamer you may want to look for units with good low light performance too, meaning you won't have to have bright lights on in your room allowing you to focus on the game! Ask our experts for their current recommendations!
What is the difference between a headset and a headphone?
It's pretty simple. The major difference here is that a headset will have a microphone included to allow you to talk and record audio, perfect for conference calls whereas headphones are speakers only and just allow you to listen to audio.
What is the best headset to buy?
One of the main considerations you'll have to make here is whether you need them to be wireless or not. Do you need the freedom of walking around the room and are willing to pay the premium to do so, or is a wired headset going to be best for you? While there shouldn't be much, if any downgrade in quality from a wireless headset, you will find they tend to be more expensive thanks to the flexibility they provide. There are two types of wireless headphones too, ones that operate via Bluetooth and those that work via Wifi. Bluetooth headsets tend to be cheaper and have less compatibility issues, whereas wifi headphones tend to have the edge on sound transmission and a greater working range. Another area to consider when choosing between wireless or wired headsets is the battery life. Wireless headsets will usually need to be charged at least every couple of days if they get heavy usage whereas a wired headset is always ready for action! There is nothing worse than finding that your headset is out of battery just before an important call!
Other things you may want to look for are headsets that offer noise cancellation if you are working in a busy office environment, these can help you to focus on the task at hand and hear the content that you need to hear clearly. The style of the headset can impact your comfort too, you could look at on-ear or over ear headphones, with over ear devices offering greater long term comfort for those using them all day.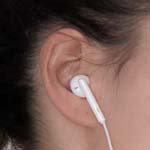 In-ear headphones: the inconspicuous companion for on the go
With in-ear headphones, the speakers are plugged directly into the ear. Modern in-ear headphones usually contain a small microphone, allowing you to make calls while on the move. Many noises are not shielded, but they hardly take up any space in your pocket. This allows you to make discreet video calls on the go.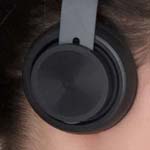 On-ear headphones: For more concentration in the mobile workplace
With on-ear headphones , the speaker pads rest on the ears. In this way they shield the ambient noise somewhat (noise canceling). Their compact size means they take up little space. If you frequently change jobs or work in a coworking space, this is a practical and professional solution.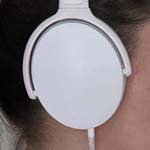 Over-ear headphones: block out ambient noise and enjoy clear sound
If you have to concentrate in the home office or open-plan office, over-ear headphones are the perfect choice. The cushions of the speakers are around your ears. This gives you maximum noise protection so that you do not get distracted by the conversations of the people sitting next to you and provide greater long term comfort.
Headphones are not common in a video conference set ups for multiple participants in the same room. Loudspeakers are used here that are either integrated into speakerphones or connected separately.
Wired or wireless: headphones in comparison
Headphone type
Advantage
Disadvantage
Wired headphones
Do not have to be charged
Compatible with all end devices through the AUX connection, USB-C or USB-A (Laptop, Computer, Smartphone, exception: Apple devices)
Secure audio connection
Can provide higher sound quality
Device is recognized instantly when connected
Inflexible working or presenting
Higher chance of defect: Cable break
The cable can be annoying on the desk

Wireless headphones
Flexible working and presenting
Quickly ready for use: no untangling cables
The battery has to be charged
If required, another USB slot is taken up
May not be used in the aircraft depending on the airline as Bluetooth must be switched off

Take a look at our headset picks – We have wired and wireless options for you
Is USB mic better than 3.5mm?
USB mics have their own sound processor on board rather than using the sound card of your computer. This means a USB mic will produce the same quality regardless of the computers specification. This is a benefit if you are using a lower quality PC, but if you have a high end computer built with video audio processing in mind then a 3.5mm microphone will give you the best results. In terms of compatibility both USB and 3.5mm mics can connect to computers, but you may find that other devices will not support both. You'll find old devices tend to support 3.5mm input whereas newer tech like games consoles use USB microphones but have no input for a 3.5mm mic. You'll find that most conference microphone systems have USB microphones for easy compatibility with your PC.