Monitors and Displays
Unsere Displays Empfehlungen
Displays for every field of application
Displays have long since arrived in our everyday lives - both at work and at home. Via displays, we receive a wide variety of information everywhere: the latest offers, infotainment, but also company and project presentations as well as the content of seminars and training courses. There are suitable display solutions for almost every field of application. With us, you will find displays for every purpose and in every price range.
Displays are suitable for use both in companies and in public institutions. These are the most common application scenarios:
Infoterminals (e.g. doctor's offices, hotel receptions)
Interactive displays (e.g. for collaborative work in office & school)
Advertising screen/video wall (e.g. POS, POI)
Control system (e.g. trade fairs, museums, schools)
Information boards (e.g. shopping centres, airports)
Room booking system (e.g. hotels, companies)
What is important when buying a display?
If you already know how and where you want to use displays, then the orientation is comparatively easy. These are just a few tips and important technical display features that we would like to give you that you should definitely know.
Image resolution
The image resolution of a display is one of the most important characteristics. This is because, in addition to contrast, brightness and viewing angle stability, it ultimately determines the image quality of a display.
The image resolutions most in demand for displays are Full HD (1,920 x 1,080) and 4K UHD. Essentially, we prefer the 4K UHD over the Full HD resolution, especially for larger screen sizes. The reason for this is the usually small viewing distance: For a viewer staying close to the screen, a 4K display presents a sharp, high-resolution image; thus, better than that of a Full HD display.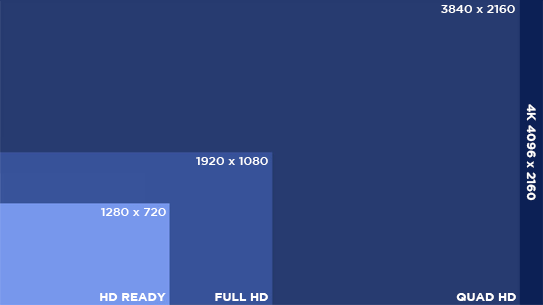 Brightness
The brightness of a display is as important as its image resolution. As with monitors, this is indicated in candela (cd/m²), or more rarely in nit (nit). The value of the two units is the same. This means that 500 cd/m² correspond to 500 nit and vice versa.
The brightness of a display depends on where you want to use it and how strong the ambient light is. The following table provides a good overview:
| Luminosity | Field of application |
| --- | --- |
| approx. 350-450 cd/m² | Rooms with controllable light conditions |
| from 500 cd/m² | Normal ambient light conditions |
| approx. 700 cd/m² | Strong ambient light, but no direct sunlight (e.g. entrance hall) |
| from 700 cd/m² | Very bright environment, direct sunlight (e.g. shop window, outdoor) |
Contrast
When we talk about contrast, in most cases, we mean brightness contrast, more precisely: The ratio between the darkest and brightest point of an image. The larger this ratio is, the more attractive and sharper the image appears to us.
Most displays have a four-digit contrast range. Typical values are 3,000:1 and 5,000:1. In general, many displays are comparable in terms of contrast. Both displays with a contrast of 3,000:1 and displays with a contrast of 5,000:1 have a very similar, solid image.
Viewing Angle Stability
Viewing Angle Stability is the property of display panels that refers to the maximum possible viewing angle at which the image can be displayed to the viewer with no or very little loss of picture quality. The larger the angle, the weaker the loss of quality in terms of colour and brightness. Viewing angle-stable displays usually have a maximum horizontal viewing angle between 160 and 180 degrees.
Operating time
The operating time is the suitability of a display for non-stop operation. The specification for this is made up of the maximum number of hours per day for one week. Generally, displays for professional use are designed for 24/7, 16/7 or 12/7 non-stop operation. You will, of course, also find other indications, such as 10/7. In our table, you will find the regular operating hours for the respective time of operation.
| Operating time | Best suited for |
| --- | --- |
| 24/7 | Around the clock |
| 16/7 | Use beyond one working day |
| 12/7 | Use during business hours |
Ports
HDMI, DVI, DisplayPort and VGA are among the most commonly used display connectors. The HDMI connection is by far the most frequently used. This is because the transmission standard of the HDMI port is designed for the simultaneous transmission of audio and video signals. The HDMI standard also supports the transmission of 4K content. If available, you can use the modern DisplayPort connection as an alternative.
DVI and VGA are pure video connectors. The latter carries analogue components, which is why you should rather resort to an HDMI connection.
Additional connections are interfaces for external control systems such as RJ-45 (LAN) and RS-232 interfaces. Often the displays also have a 3.5 mm jack output and one or more USB ports.

Mounting
There are usually different options available for mounting a display: You can install a display either on a wall mount, ceiling mount or on a display stand. JYou can choose the solution you want depending on the area of application and disposition of the room.
Interactive Touch Displays: Interactive work in the classroom & meeting room
Touch displays are screens which are provided with a touch-sensitive surface for convenient operation of the applications displayed on the display surface of the screen. The advantage of such displays lies in the fact that they can be operated with a single fingertip (or with a pen). Touch displays are often additionally equipped with advanced touch user interfaces so that operating them is child's play for everyone.
Several touch technologies can be used in touch displays. In the professional large format display sector, IR technology and capacitive touch technology are the main technologies. Capacitive touch displays are generally better and more precise in control than IR displays. These are also more expensive and not yet so widespread, though.
Touch Displays are interesting and practical for education and business alike. They allow for better collaboration; thus, giving place to a faster knowledge transfer. The best example of this is the Samsung Flip.
Videowall Displays: The best eye-catcher
Videowall displays are the best eye-catcher, which makes them perfect for use with Digital Signage. Here several displays are combined to a larger display area, which can be loaded with any content: Graphics, videos or animations.
Videowall displays often have integrated Signage Player, features for convenient content management and various other functions for individual adaptation on site.
Screen size: Which display sizes are available?
The display size indicates the physical size of the area where pictures/videos are displayed. This is usually expressed in inches and, in rare cases, also in centimetres. The display size of the smaller displays starts at 10 inches; the larger one at about 55 inches. Depending on where and for what purpose you want to use a display, you can choose a suitable display size.
Displays under 55 inches are perfect for use in almost any room; from a small reception desk to a meeting room or office. Displays over 55 inches are more suitable for larger rooms, such as conference rooms, classrooms, lecture halls or larger reception areas in hotels. When it comes to digital signage at a POS, larger displays are preferable.
Displays smaller than 32 inches are uncommon. You will usually find these in the form of Information Stand Display Solutions in pedestals or display housings for landscape or portrait format montage. Information Stand Displays are ideal for customer, employee and patient communication.
Typical screen sizes for displays
| Screen size in inches | Screen size in centimetres |
| --- | --- |
| 32" | 81 cm |
| 42" | 107 cm |
| 55" | 140 cm |
| 65" | 165 cm |
| 75" | 191 cm |
| 85" | 216 cm |

Learn more in our Display Purchasing Advisor!
Panel type for displays: Which one is the best?
There are different panel types used in displays, but LCD panels (Liquid Crystal Display) with IPS technology are the most widely used. Compared to TN panels, which are more commonly used in monitors, IPS technology is characterised by high contrast, colour fidelity and, above all, excellent viewing angle stability.
Displays with OLED technology also conjure up a very high-contrast image. Here, the image is generated by means of organic light-emitting diodes. The image quality of these displays is outstanding! Thanks to OLED technology, the depth of the housing is very low, which makes it very easy to integrate them into almost any room in a very stylish way. However, they are currently only available as signage and presentation displays, not as touch displays.
Display mounts: For simple display installation
Displays can be mounted in different ways. One of the most common types of mounting is mounting via a wall mounts, on a display stand or via a ceiling mounts.
Display wall mounts
With the display wall mounts, you have the choice between rigid and movable mount systems. The latter is very practical for rooms with little space. The Display can be brought into the appropriate position as required and finally back into the discreet starting position.
Display stands
A distinction is made here between mobile and stationary display stands, whereby the function for targeted height adjustment can also be available for both types of mounting. The display height can, therefore, be conveniently adjusted to the body size.
Mobile display stands have a mobile base for easy alignment within a room or for flexible use in different rooms. Stationary display stands, on the other hand, are designed for safe use in one place.
Display ceiling mounts
For easy ceiling installation, use a display ceiling mount. The stable construction of these mounts provides enough support even for heavy displays. This type of mounting is especially adequate for public areas. On the one hand, the displays are hung centrally in a place visible to all; on the other, they are much better protected against vandalism due to the aerial position.
Signage Player & Display Accessories
Do you need accessories for your display? Then you've come to the right place! We offer a wide range of Digital Signage Players, Software and Mini PCs.
Are special media players that are connected to a display. They usually offer various additional functions, such as CMS apps or network and audio channel management.
Digital signage software is additional software that extends the functionality of your display. Most of them are programs that help in the management of contents.
Mini PCs are small and compact. They can easily be used with a Digital Signage Display. Here you will also find powerful notebooks and tablets.