Game with your friends and rock the house! A gaming projector brings you together for a great gaming night. And as we all know, something like this can quickly become a tradition.
Survived the next wave of zombie attacks? Your buddy had your back in a co-op game: On the split screen, he just sent a ten-pack of zombies to the afterlife forever with a skillful grenade throw. Now cool down, eat some snacks and toast your Brother-in-Arms. And on we go!
The giant screen of a gaming projector is made for enjoying video games together. A TV can't compete with the high social factor of a modern projector. In front of a projector screen, all your friends can sit and there's enough room on the screen for action of any game genre.
What can I play well on a gaming projector?
You can play any style of game that you and your buddies feel like. You'll definitely love these game genres on a gaming projector. Find your favorite for yourself!
How to set up your gaming projector correctly
The most important rule: Place your projector as parallel as possible to the projection surface. This way, you avoid a skewed alignment of the image and a loss of quality in the image resolution. Otherwise, you have several options for setting up your projector correctly.
Either you can
use a ceiling mount
place the projector on a firm, level surface a few meters in front of the projection surface
or, in the case of a short-throw projector, you may only need a few centimetres in front of the screen
On our projector buying advice page, we give you tips on how to determine the optimal seating distance and place the projector correctly.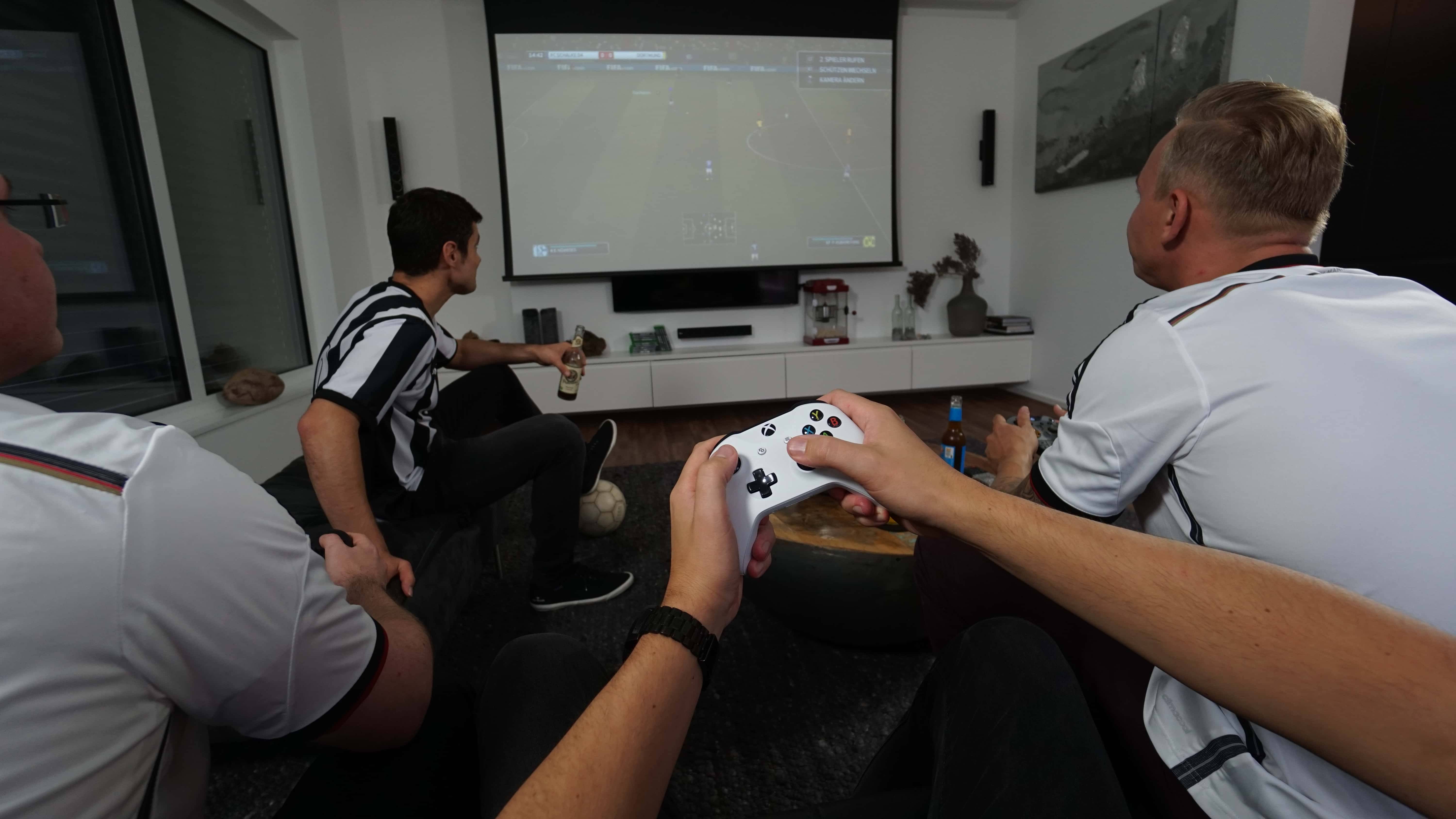 The right screen for gaming projector
Of course, you can project onto a blank wall. However, you will get a much better image quality if you use a real projector screen. Projection screens have a specially developed cloth structure for projections, which slightly amplifies the reflected light and makes colours appear natural. For gaming, we recommend a screen with the following features:
Suitable sound for your gaming projector
Of course, you should not do without a good sound for an XXL picture. After all, your sound should be as powerful as the picture. Projectiles whizzing through the air, cheers from the stadium stands, squealing tires: All this comes into its own when the action on the screen is supported by surround sound. And that's what you need:
Gaming Projector Complete bundles
We have put together three complete gaming projector sets for you. Each set contains everything you need to upgrade your living room to a gaming temple. The Gaming projector bundle sets from visunext have been lovingly put together for you by our gaming fans. And to be honest, we would love to keep them ourselves. But passion has to be shared!
This might also interest you: