Smooth room management is crucial for efficiency and productivity in modern business organisation. Digital room booking systems create transparency and flexibility, avoid booking conflicts and optimise room utilisation. Discover how our solutions optimise workflows and future-proof your company.
Duplicate room reservations and inadequately equipped meeting rooms can significantly impact productivity in your organisation. Digital room booking systems address these challenges. They provide clarity on room availability and amenities, minimise booking conflicts and ensure you always find the right room for your needs.
If you're looking for a solution that both promotes collaboration and increases operational efficiency, you've come to the right place! Learn more about the benefits and features of our room booking solutions and how they can transform your business environment.

The future of meeting planning: Why digital room booking systems are a must
Digital room booking systems are innovative technology solutions for optimising room booking and management. In large companies where numerous meetings and conferences take place, coordinating the availability and use of rooms can become a major challenge.
This is where digital room booking systems are needed. They offer a central platform that provides real-time information on room availability and equipment. The result is better utilisation of space and simplified meeting planning .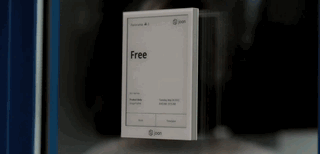 Advantages of digital room reservation at a glance
Display vs. e-ink room booking system technology
Digital room booking systems differ in their display technology: while classic displays score with brilliant colour representation and high refresh rates, e-ink displays impress with energy efficiency and readability. Both technologies offer their own advantages.
Functions of common room booking systems
Room booking systems offer a variety of functions and features that increase both efficiency and user-friendliness. In companies, they greatly facilitate the planning and use of meeting and conference rooms. By digitising the room booking processes, incorrect and double bookings are avoided, resulting in smoother operations and fewer conflicts between employees.
In addition, such systems provide a clear overview of room availability, so that valuable working time is no longer wasted searching for a free room. The investment in such a system quickly pays for itself, as it contributes to improved room utilisation, more effective meetings and overall higher employee satisfaction.

What should be considered when buying a room booking system?
Discover room booking systems from renowned manufacturers
Do you need support with planning and installation?
Our experts advise you on all channels and give you immediate answers to your questions. Send us a message: