Fast, easy and secure wireless image transfers - Interactive presentations with BenQ InstaShow
With BenQ's presentation systems, you experience true interaction in your conference room. Quickly and wirelessly transfer content from your screen, tablet or smartphone to a central display in the room. Always start your meetings on time!
Discover BenQ InstaShow
In many companies, the meeting culture plays a major role. Several conference rooms in companies give employees and external partners the opportunity to exchange ideas or to realize projects.

It is in these collaborations that BenQ InstaShow helps you to quickly reach a common result. Within seconds, this wireless presentation solution allows you to present your content on a central screen in the meeting room and present your results.

How can this be done with no software or driver installations!? Very easy!

Simply plug the InstaShow button into your laptop or tablet and connect the receiver via HDMI cable to a projector or display. Now just press the "InstaShow" button and the meeting can begin! What are you waiting for?
Present like a professional today!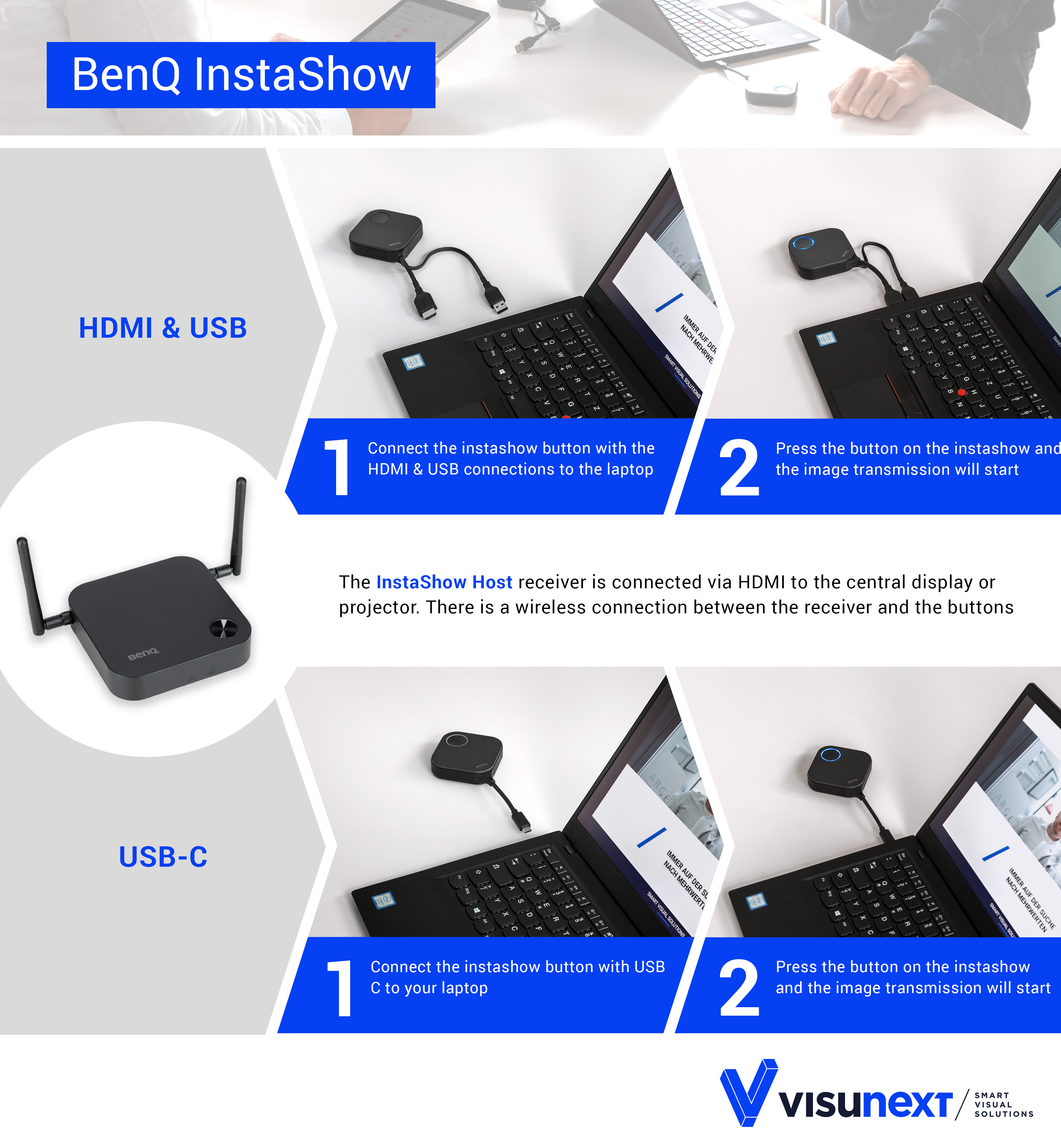 The BenQ InstaShow presentation systems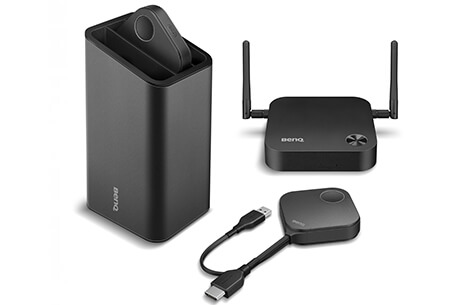 BenQ InstaShow WDC10
Ideally suited for small to medium-sized meeting rooms
HDMI & USB connection required
Presentation & video mode at the touch of a button
No drivers & software needed
Full HD
Max. 16 users
Compatible with the WDC10C
---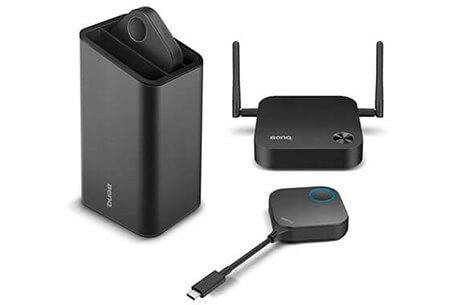 BenQ InstaShow WDC10C
Ideally suited for small to medium-sized meeting rooms
USB-C connection required
Presentation & video mode at the touch of a button
No drivers & software needed
Full HD
Max. 16 users
compatible with the WDC10
---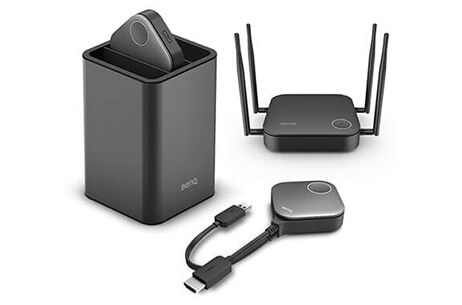 BenQ InstaShow WDC20
Ideal for medium to large meeting rooms
HDMI & USB connection required
Presentation & automatic video mode
Up to 4K UHD (upscaled)
Compatible with various devices
Split Screen (Up to 4 users)
Touch-back function
Max. 32 users
Compatible with Apple Airplay
---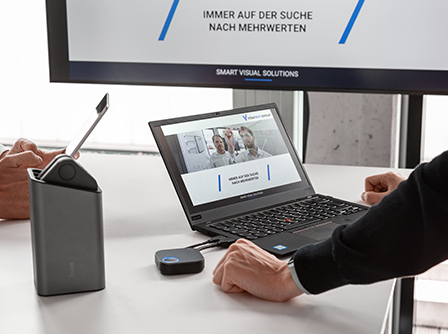 Your benefits at a glance
Wireless transmission of your content
Real plug & play
Easy handling
Connecting & Presenting
Compatible with various devices
InstaShare App for Mobile Devices (WDC20 only)
Instashow presentation systems in direct comparison & test
| | WDC10 | WDC10C | WDC20 |
| --- | --- | --- | --- |
| In the box | Receiver, 2 Buttons, Button Holder | Receiver, 2 Buttons, Button Holder | Receiver, 2 Buttons, Button Holder |
| Max. Transmission range | 8 meters | 8 meters | 16 meters |
| Input resolution | 1920 x 1080 | 1920 x 1080 | 1920 x 1080 |
| Output resolution | 1920 x 1080 | 1920 x 1080 | Upscaled to 3840 x 2160 |
| Max. connected users | 16 | 16 | 32 |
| Max. User on a screen | 1 | 1 | 4 |
| Modes | Presentation & video mode at the touch of a button | Presentation & video mode at the push of a button | Automatic Presentation & video mode |
| Touch-Back | | | |
| Zentrale Steuerung via Netzwerk | | | |
| Kompatibel mit Apple Airplay | | | |
| InstaShare App Unterstützung | | | |
WDC10
In the box: 2 Buttons, Button Halterung
Max. Transmission range: 8 Meter
Input resolution: 1920 x 1080
Output resolution: 1920 x 1080
Max. connected users: 16
Max. User on a screen: 1
Modes: Präsentations- & Videomodus
Touch-Back:

Central control via network:

Kompatibel with Apple Airplay:

InstaShare App Support:

---
WDC10C
In the box: Host, 2 Buttons, Button Halterung
Max. Transmission range: 8 Meter
Input resolution: 1920 x 1080
Output resolution: 1920 x 1080
Max. connected users: 16
Max. User on a screen: 1
Modes: Präsentations- & Videomodus
Touch-Back:

Zentrale Steuerung via Netzwerk:

Kompatibel with Apple Airplay:

InstaShare App Support:

---
WDC20
In the box: Host, 2 Buttons, Button Halterung
Max. Transmission range: 16 Meter
Input resolution: 1920 x 1080
Output resolution: bis 3840 x 2160
Max. connected users: 32
Max. User on a screen: 4
Modes: Präsentationsmodus
Touch-Back:

Zentrale Steuerung via Netzwerk:

Kompatibel with Apple Airplay:

InstaShare App Support: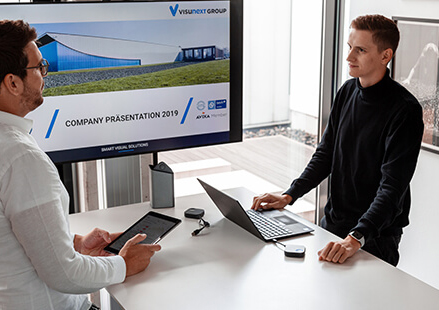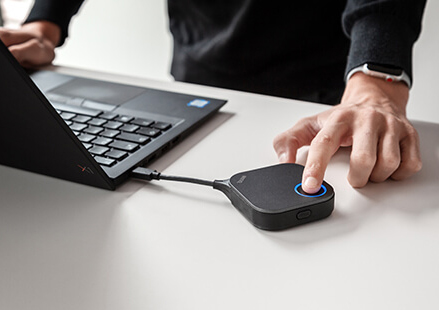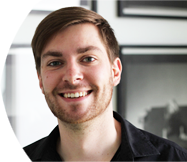 Do you still have unanswered questions? We also advise you personally - we look forward to your call or e-mail! If you prefer to be called back by us for free, just leave us your contact details.
Contact form Contakt person