Building a beamer by yourself?
In the following, we will present three devices that are so inexpensive that there is no need for a "build-your-own-beamer-project":
The ViewSonic PA503S offers an attractive price-benefit ratio for an entry-level projector. Thanks to its 3600 lumens, it can be used in most rooms. Its SVGA resolution with 800 x 600 pixels is still below HD resolution, but already delivers sufficient picture quality. Compared to a DIY beamer, the ViewSonic PA503S is a much better choice. Thanks to its Super Colour Technology, it also provides an attractive colour display.


Resolution:800 x 600 SVGA

Light Output:3600 ANSI Lumen

Connections:HDMI
VGA in
VGA out
Composite-Video
USB Typ B Mini

To product category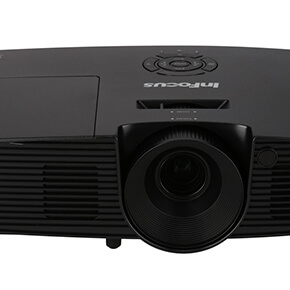 InFocus IN114xv is an entry-level projector for use in offices and schools. With its XGA resolution, it already offers high image definition. With 3500 Lumen, IN114Xxv delivers high-quality light output. On the interface side, it offers everything you need for daily use: HDMI, VGA and Cinch-Video. The lamp service life specification of up to 15.000 hours is equally attractive, keeping maintenance costs at a minimum. Compared to the InFocus IN114xv, the beamer self-construction is not rewarding.


Resolution:1024 x 768 XGA

Light Output:3500 ANSI Lumen

Connections:1 x VGA

To product category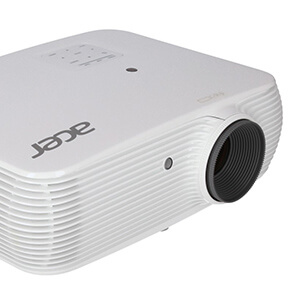 For an attractive price, Acer H5382BD offers many features, you would only find in a high-end projector: the HD resolution! With its 1280 x 720 pixels, it is HD ready. This offers you high-quality content in HD. In addition, its 3300 lumens, it not only suitable for most rooms, but projects an attractive 3D image as well. That's right! It is 3D-capable too! Not only that, it also supports the nVidia 3D TV Play ready feature. When it comes to the cost-benefit ratio, no DIY beamer comes close!


Resolution:1280 x 720 WXGA

Light Output:3300 ANSI Lumen

Connections:1 x HDMI
1 x USB Typ A
1 x 3.5 mm Mini Jack
1 x VGA

To product category
Building a beamer by yourself
This project sounds attainable at first, but taking a closer look at the complexity of today's projectors, you will quickly realize that the plan to build a beamer yourself is actually very complex.
There are numerous online videos on DIY beamer construction, but by looking at the result, you will soon notice that this has little in common with professional devices by beamer manufacturers. The instructions promise little effort and low price for a good result. However, this is often not the case and the effort does not justify the result. As an expert for beamers and audio-visual systems, we can only advise you to buy an inexpensive device at entry-level, which will likely meet your requirements better than a DIY-model. Thanks to many years of cooperation with diverse projector manufacturers, we at Visunext offer a very broad selection and know-how to provide you with the best advice for any application. Yet another aspect which speaks against the do-it-yourself beamer is the expected image quality. Image quality requirements have increased significantly in recent years. This is due to the advanced image quality of inexpensive TV sets, smartphones and tablets. A DIY beamer does not come close to such high image quality.

You should also think about the purpose, because if you build your own beamer, you simply cannot build the right device for yourself. Is it a home cinema beamer you want, a multimedia beamer or a beamer intended as a TV substitute?

The projector should also be adaptable to the respective premises. Of course, such a thing doesn't work with a DIY kit that certainly doesn't offer a lens-shift or keystone. Even the look of a do-it-yourself beamer is far away from the ones you can expect in an inexpensive entry-level beamer. This not only affects the projection distance, but also the sharpness of the image.

Furthermore, it is out of question that a DIY beamer project can create a device that offers a good light output and contrast. Even for darkened home cinema rooms the light output will not be enough. Also, extras like a motion enhancement function for fast film scenes, usually called FI (Frame Interpolation), will hardly be found in such kits or DIY beamer proposals.

A beamer used for multi-media or substituting a TV device usually requires a higher light output than a home cinema projector. Thus, it is quite unlikely that a DIY beamer kit offers a satisfying result. If you cannot decide on any of the above-mentioned models, you can still take a look at the inexpensive entry-level beamers by ivolum which are: ivolum HBP-1000 and ivolum HBP-3000. Their performance is below that of the above-mentioned beamers, but they still deliver a better result than a DIY beamer.