Google Jamboard - The smart display to get creative!
Google Jamboard is the innovative, cloud-based touch display for location-independent collaboration and creation. Together with G Suite, it paves the way for productive meetings and brainstorming!
---
Why Purchase a Jamboard?
Jamboard supports you and your team in all collaborative processes of planning and developing effective business ideas and projects. The 55-inch display provides enough space for sketches, spreadsheets, charts and presentations that you can edit and modify in real-time with your colleagues and customers, regardless of location and space. The Google G Suite for Business provides the proven cloud apps for communication, creation and presentation: Hangouts, Meet, Docs, Sheets and many more.
With the free Jamboard Companion app, you can drop in and out of a running jam-board session, Jam, from mobile devices (Android, iOS). Direct access to the Internet, thevideoconferencing feature and the ingenious handwriting and shape recognition function further enhance the sophisticated digital display.
Technical specs & top features
55" 4K UHD display
120Hz touch scan rate
Refresh rate of 60 Hz
HDMI 2.0, USB Type C, 2 x USB 3.0
SPDIF audio output
WWIFI 802.11ac 2x2, NFC
1 gigabyte Ethernet
Google Cast
Integrated tilting support
Integrated wide-angle camera
Speaker directed downwards
Integrated microphones
16 simultaneous points of contact
Handwriting and shape recognition
2 x fine tip passive pen
Eraser
Microfiber cloth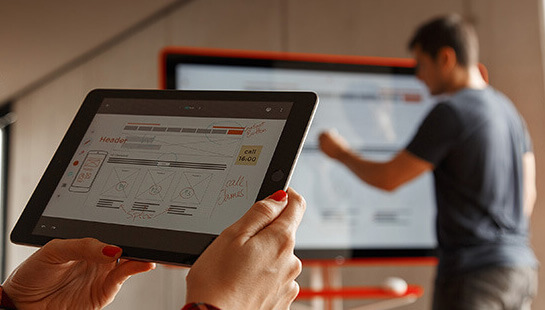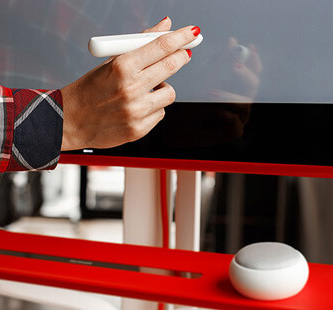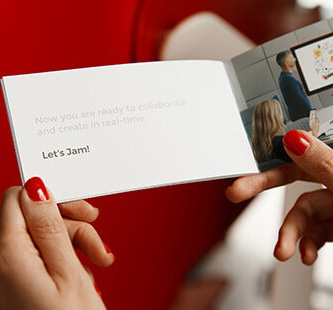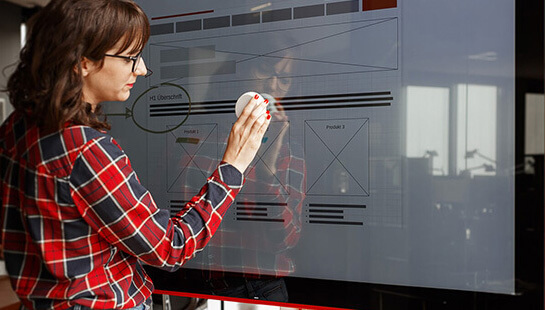 Google Jamboard benefits at a glance

High-end tools for fast creation
Use a variety of built-in drawing tools to create any content - from a planning sketch to the creative design concept. Enrich your ideas with additional content from the Internet, Google Drive or even from mobile devices like smartphones and tablets.

Simple and intuitive operation
The operation of the Jamboard is surprisingly intuitive - similar to that of a tablet or smartphone. For even more precision in creating, positioning, and modifying content, you can also use the supplied batteryless pens and handy eraser

Collaboration from anywhere
Work together on projects and ideas independent of space and location - either within your organisation or at the same time from any location around the world. Multiple jamboards and mobile devices with the Jamboard app installed can be easily linked together.

High mobility and easy setup.
The setup of the Jamboard is simple. It does not require previous knowledge and is not linked to complex prerequisites. All you need is a power outlet. Everything else works wirelessly. With the optional rolling stand you can also easily roll the board from room to room.

Easily save and share
Your content is always safely stored, nothing is lost. You can always pick up where you left off. Share your jams or content with others - through Google Drive or the Jamboard-App.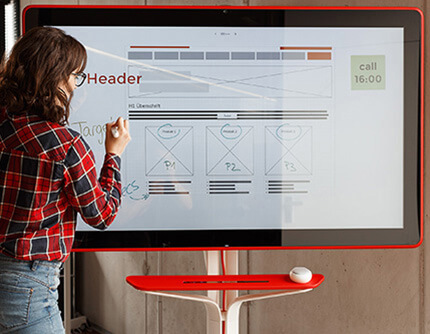 Our favourite features
Handwriting and shape recognition
Link / use with smartphones and tablets
Cloud based
Video conferencing feature
Seamless integration with Google G Suite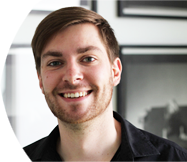 Do you still have unanswered questions? We can also advise you personally - we look forward to your call or e-mail! If you prefer to be called back by us for free, just leave us your contact details.
Contact form Contact person