Intuitive video conference systems for every room
Design your video conference room with the right video conferencing systems from Logitech! Integration into rooms of any size and shape is easier than ever. It's simple and intuitive to use. Find the right video conferencing solution for huddle rooms, meeting rooms and conference rooms.
You know the situation: You are taking part in a video conference and can neither see nor understand your conversation partners well. Not everyone is in the picture and the video and audio quality is so poor that the conference becomes a real ordeal.

Logitech videoconferencing solutions make meetings fun again, so you and your colleagues, partners and clients can start a successful collaboration. Regardless of the number of participants, room size, or video conferencing platform. Select a room type and let Logitech's video conferencing solutions convince you!

Do you have questions about video conferencing systems? We will answer them in our specialised FAQ!
---
Videoconferencing solutions by room type
Our product recommendations
Logitech video conferencing systems in comparison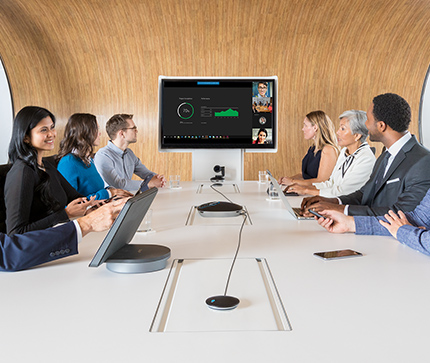 Why should you buy?
Easy integration into the existing
infrastructure
Innovative RightSense technology for optimized picture and sound settings
Compact solutions for every type of room
All-in-one solutions
Picture and sound in professional quality
---
RightSense technology - Proactive image and sound optimization

RightSense is the name of a series of innovative features consisting of RightSight, RightLight and RightSound that were specifically designed for use in video conferencing systems. These significantly improve the image and sound quality in video conferencing. Buy a videoconferencing system with RightSense technology and you'll see the difference to conventional videoconferencing systems!

RightSight - Every participant in the picture
RightSight ensures that each participant in a video conference is always clearly visible within the image. This is achieved through the adaptive, fully automatic adjustment of camera settings in real time. If new meeting participants are added, the camera and zoom are adapted to the new number of participants.
RightLight - Optimal light balance and color
RightLight adjusts the camera settings so that all participants remain clearly visible even in poor lighting conditions, such as backlighting. It eliminates the problem of a too bright background and a much too dark foreground. RightLight also adjusts the color balance so that skin tones always look natural.

RightSound - Improved sound transmission
RightSound ensures optimal voice transmission. It highlights the voice of the person currently speaking by automatically adjusting the volume individually. At the same time, the AI speech recognition suppresses all unwanted noise away from the participants' voices.
---
Huddle Rooms

Huddle rooms are among the most frequently used rooms in companies worldwide. These rooms are usually small and offer little space for extensive video conferencing solutions.

Based on this premise, Logitech has developed several video conference systems which, despite their compact product dimensions, still meet the demand for the largest possible field of view and convincing image and sound transmission quality.
---
Logitech MeetUp - The Best Camera for Huddle Rooms
The Logitech MeetUp video conferencing camera is designed specifically for small rooms. The camera's wide field of view (120°) and pan-and-tilt camera lens keeps everyone in the picture. The MeetUp has an integrated audio output, which is automatically adapted to the room situation using RightSound technology. Also integrated are 3 microphones, which transmit the voices of the participants unaltered.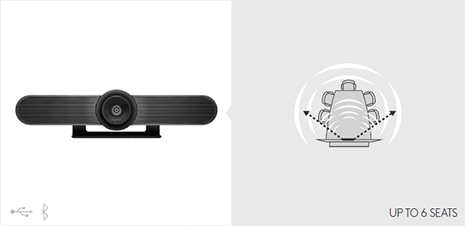 Recommended number of participants: up to 6
Works with your video conferencing software
Very wide field of view (120°)
Lens with pan and tilt function
4K Ultra-HD resolution (up to 3,840 x 2,160 pixels
at 30 FPS)
---
Logitech Connect - The ultra-compact option
The Logitech Connect was also developed for small rooms. However, this model has been designed with maximum mobility in mind. Accordingly, the Logitech Connect is portable and ready for use with just one cable. With the Connect, you can initiate or participate in video conferences anytime, anywhere, whether in the office, meeting room or even while traveling.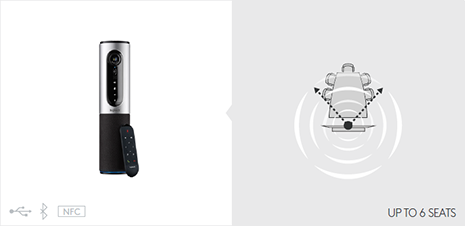 Recommended number of participants: up to 6
Works with your video conferencing software
Bluetooth and NFC capable
Very light and compact
Mobile power supply via built-in rechargeable battery
---
Logitech BCC950 - Home Office Performance
The Logitech BCC950 brings small teams together to initiate creative processes and promote active communication. Like the MeetUp and Connect video conferencing cameras, the Logitech BCC950 is designed for use in spaces where space is limited. The videoconferencing camera is so compact that it fits on any desk surface, making it suitable for even small home offices.

The BCC950 is an all-in-one video conferencing solution. This means that in addition to the high-resolution Full HD camera, it includes a hands-free kit and speakers for audio transmission.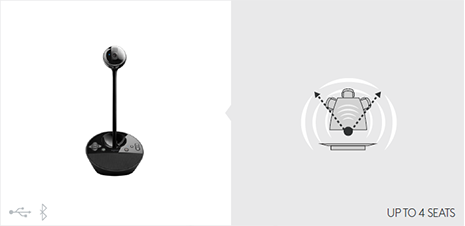 Recommended number of participants: Up to 4
Works with your video conferencing software
All-in-one video conferencing solution
Light, compact, space-saving
Simple plug & play principle
---
Medium and large meeting rooms

Medium and large meeting rooms are places where important decisions are made, new business relationships are established and business presentations are held.

Reliable videoconferencing solutions that are easy to use and can adapt flexibly to changing numbers of participants and lighting conditions are in demand here. Logitech's videoconferencing solutions have been designed with all the essential features to turn a frustrating meeting into an inspiring event.
---
Logitech Rally Bar - The best all-in-one solution
The Logitech Rally Bar sets new standards for video conferencing in medium-sized rooms. An all-in-one solution for your meeting room. The pan, tilt and zoom function allows you to capture the entire room
With the built-in AI viewfinder, Rightsense technologies now work even better. The camera recognises the people in the room and adjusts the output image to the people present.

Appliance mode allows supported video conferencing applications, such as Zoom, to run directly on the device. No additional meeting computer is required.


---
Logitech Rally - The best quality for meeting rooms
Logitech Rally is a videoconferencing camera that works best in large and medium-sized rooms. For this purpose, it has been equipped with extensive technical innovations that make a video conference an inspiring event.

One of the biggest innovations is the RightSense technology, which adaptively improves the image and sound. For example, the camera reorients itself as soon as other conference participants join the conference table. In addition, the camera image is adapted to the current lighting conditions, meaning the faces of the participants are highlighted and not washed out in relation to their surroundings.

RightSound technology also improves the sound reproduction: Distracting background noise is suppressed and the voices of active speakers are dynamically adjusted.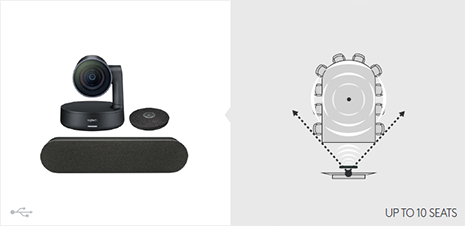 Recommended number of participants: up to 10
Works with your video conferencing software
All-in-one video conferencing solution
4K Ultra-HD resolution (up to 3,840 x 2,160 pixels at 30 FPS)
Modular design for individual, flexible positioning
Logitech Rally Plus
The Logitech Rally Plus is an enhanced Logitech Rally Set that has been expanded with an additional Logitech Rally Mic Pod and Logitech Rally Speaker. We recommend this set especially for larger rooms where large areas need to be filled with sound.
---
Logitech Group - The best value for money
The Logitech Group video conferencing camera is the ideal solution for large meeting rooms and large numbers of participants. The system is very compact and can be easily integrated into any conference or meeting room.

The 90° field of view of the camera is ideal for large rooms. The pan and tilt camera can be individually adapted to any room scenario with different numbers of participants.

The Logitech Group has also been equipped with RightSound technology, which greatly improves audio quality. The intelligent system filters out all disturbing noises so that the voices of speaking people are transmitted very clearly and distinctly.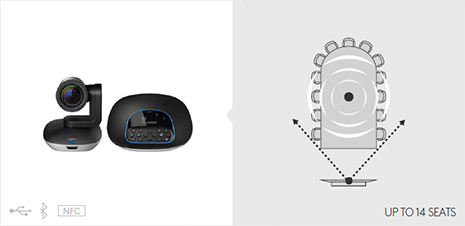 Recommended number of participants: up to 14
Works with your video conferencing software
All-in-one video conferencing solution
Full HD picture resolution at 30 FPS
Optimally suited for large rooms
Excellent acoustic coverage
Plug&Play connectivity via USB
Logitech Group with additional microphones
Logitech Group with two additional microphones allows you to extend the range of the built-in microphones. This also allows you to increase the maximum number of participants in conference rooms up to 20 people.
Buy Logitech Group with microphones
---
Multifunction Room

Whether for creative workshops with participants at different locations or for classic meetings and kick-off rounds: Multifunctional rooms require a versatile video conferencing setup that can be quickly and easily adapted to the respective application scenario.

Logitech PTZ cameras combine all the features of a good videoconferencing system that you need for use in multifunctional rooms. The effortless integration into existing infrastructures with video conferencing platforms such as Skype for Business or Microsoft Teams provides a secure basis for successful collaborative processes.

Logitech Rally - Innovative video conferencing system
Logitech Rally is an innovative videoconferencing system with high-quality components and advanced RightSense automation technology that automatically adjusts the camera image to the number of participants. In this way, even added participants are captured and included in the transmitted image of a conference or meeting.

Logitech's proprietary RightSound technology, which suppresses background noise and emphasizes the voices of individual active speakers for better intelligibility, also ensures good sound and voice transmission.
---
Logitech PTZ PRO2 camera - Full HD camera for large rooms
The Logitech PTZ PRO2 camera is a premium quality videoconferencing camera designed specifically for use in large rooms such as classrooms, conference rooms or even university auditoriums.

The Logitech PTZ PRO2 is equipped with a premium camera lens that transmits a high-resolution Full HD image and features a convenient 10x zoom. With the included remote control, you can control the camera lens and adjust the image detail to suit your individual needs.
Recommended number of participants: up to 20 and more
Works with your video conferencing software
Motorised pan and tilt function
10x camera zoom
Simple Plug&Play installation
Works with existing audio system
---
Logitech Tap - Practical touch control for Logitech video conferencing systems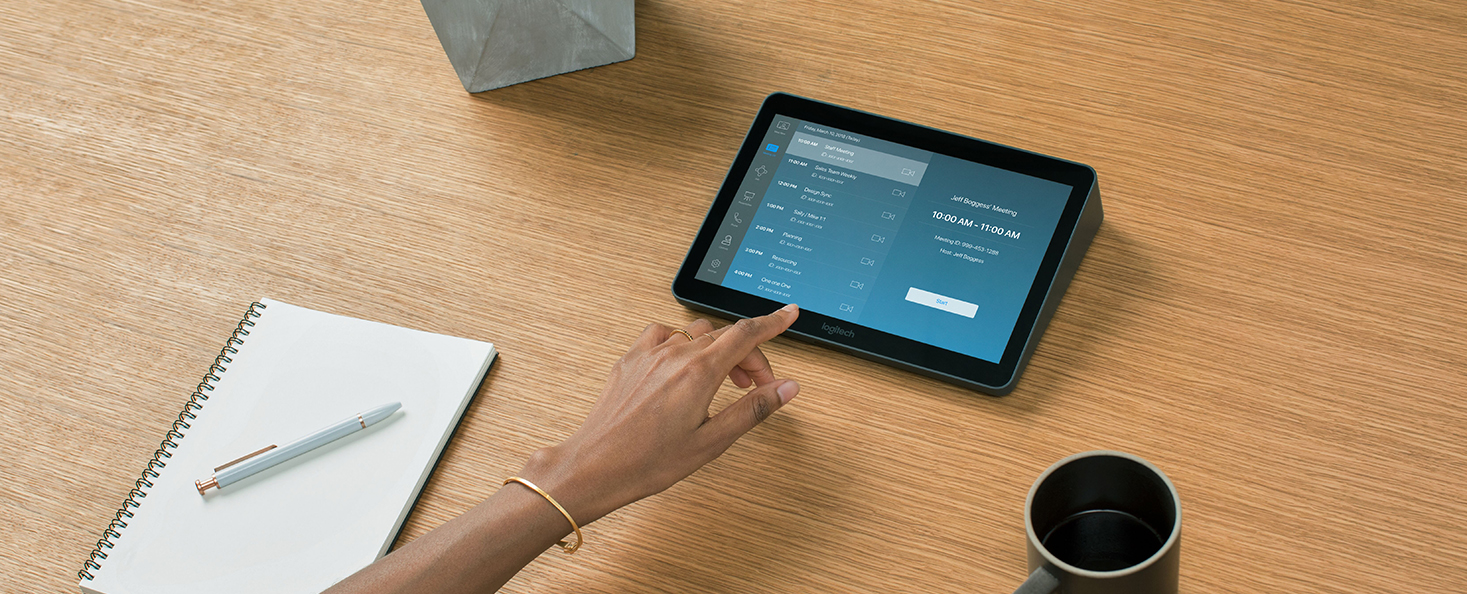 Logitech Tap adds simple and intuitive touch control to your Logitech video conferencing system, taking your video conferencing to a new level. The Taps come with pre-configured video conferencing software, giving you a tuned and technically advanced conference room solution
What is Logitech Tap?
Logitech Tap is a touchscreen controller that is either used as an add-on module in conjunction with Logitech video conferencing systems or works in conjunction with a PC as a smart control unit for room automation, digital signage or or environmental monitoring.
What are the benefits of Logitech Tap?
Logitech Tap offers many convenient features for video conferencing and makes each of your video calls less complicated.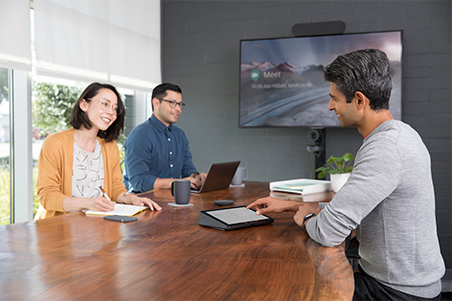 These functions include
Conference joining at the touch of a button
Real-time wireless sharing
Wired sharing via HDMI
Calendar integration
Intelligent cabling
Anti-glare & anti-soiling coating
The biggest advantage of Logitech Tap is its seamless compatibility with proven video conferencing room solutions from Google, Microsoft and Zoom.
Furthermore, Logitech Tap also offers a developer-friendly environment for creating customised, touch-based user interfaces. This can be used to make many work processes more efficient as well as automate tasks.
How is Logitech Tap mounted?
Logitech Tap can be installed either on a table via a table mount or an articulating mount. For mounting on a wall, a wall mount is used. All three mounting options offer maximum space-saving yet practical integration of the Logitech Tap in any conference or meeting room.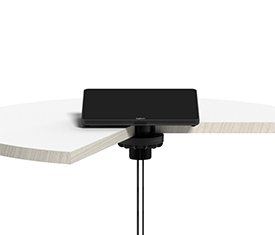 Logitech Tap table mount: rotates 180°.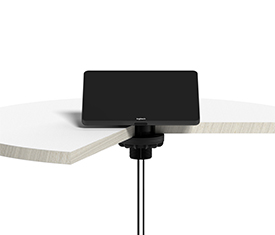 Logitech Tap articulating mount: rotates 180°, screen also angled 30° for better visibility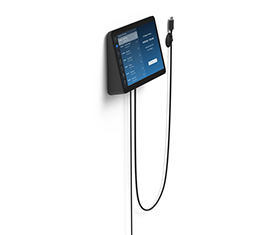 Logitech Tap wall mount: Maximum space-saving mount
---
Video conferencing applications certified for business

Logitech video conferencing cameras and webcams are certified and compatible with video conferencing software applications that support USB cameras and audio components. Certified for, among others:
Microsoft Skype for Business
Microsoft Teams
Google Hangouts Meet
Zoom
BlueJeans
GoToMeeting
WebEx
Logitech video conferencing cameras and webcams are certified and compatible with video conferencing software applications that support USB cameras and audio components. Certified for, among others:
Microsoft Skype for Business
Microsoft Teams
Google Hangouts Meet
Zoom
BlueJeans
GoToMeeting
WebEx
---
Video conferencing systems - Frequently asked questions
Video conferencing systems are the most popular form of communication in companies right after personal face-to-face communication. With the help of a video conference system, all members of an organization can communicate with each other regardless of their location. And this is also the biggest advantage of purchasing a video conferencing system: important decisions can be made more quickly, agreements with partners, clients or even within several internal project teams can be implemented promptly.

Below we answer the most frequently asked questions about video conferencing systems.

What is a video conferencing system?
A videoconferencing system is a combination of audio and video equipment that is mostly used in companies for real-time communication with simultaneous image and sound transmission. The conference participants can communicate with each other regardless of location.

What do I need for a video conferencing system?
For a video conference you need a video conference camera, a microphone as well as speakers and a display device such as a display or projector. A good Internet connection is also important so that the image and sound information can be transmitted without delay.
You will also need video conferencing software and the most popular options are Skype, Google Meet and Zoom.

What is the optimum number of participants for a video conference?
The optimal number of participants depends on the video conference system used. Depending on how well room coverage can be achieved by the camera and the audio system, the optimal number of participants can vary greatly.

How much does a video conferencing system cost?
That depends on how extensive a video conferencing system should be and what functions it offers. As a rule, complex all-in-one solutions for large conference rooms are usually more expensive than compact systems for small meeting rooms.

Which room size is best suited for video conferencing?
That depends strongly on how many people are participating in a video conference. Small huddle rooms and meeting rooms offer correspondingly less space than conference rooms for large gatherings of several dozen participants.

The size of the room plays an important role in the selection of a suitable videoconferencing system. The camera, microphones and speakers of a video conference system should cover the entire room if possible. This ensures that each participant is easily recognisable and can be understood clearly.
Our product recommendations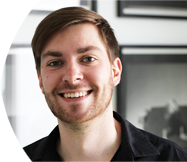 Do you have more questions? We would also be happy to advise you personally - we look forward to your call or e-mail! If you would prefer us to call you back free of charge, simply leave us your contact details now.
Contact form Contact people