Projector Speaker guide: This is how you can get the best audio!
A good projector does not guarantee good sound. The picture quality is the primary concern.

Sound quality depends on the built-in speaker and there are not too many projectors that provide this. Therefore we recommend an external projector speaker instead. It provides better quality sound and can also be placed freely.
Are you looking for a good projector speakers?
There are basically two types of projector speakers: active projector speakers and passive projector speakers.
1. The active speakers are powered separately via AC power. The audio signal from the projector is usually fed via a 3.5 mm jack cable or stereo RCA plug (red / white).
2. A passive projector speaker should be connected to a stereo receiver or AV receiver with speaker cable. For example, the projector image is routed via HDMI into the the AV receiver, from there, another HDMI takes the image to the projector, whilst speaker cable feeds the audio to the speakers.
An active projector speaker is often used in classrooms and meeting rooms, while a passive projector speaker is more likely to be found in home cinema.
---
Active projector speakers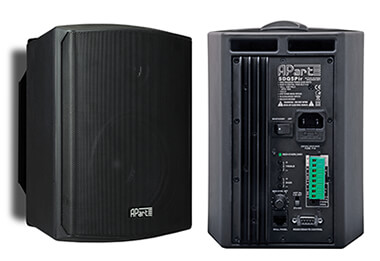 Which speakers are suitable as active projector speakers?
For use as an active projector speaker, all popular active speakers use a 3.5 mm jack input or a stereo RCA connector (red / white).
They are directly supplied with mains power, one of the two speakers will have a power supply installed. The second loudspeaker of the stereo set is supplied with power and the audio signal from the first loudspeaker.
Note: If you want to install an active projector speaker on the ceiling, please make sure that the cable between the two speakers is long enough or interchangeable. In a conventional solution, the cable between the active speakers is about 2 m long, which is often not sufficient for a larger space.
The installation of the active projector loudspeaker has to be done on the left and right next to the screen, respectively left and right above the screen. This depends on the particular situation of the room. This helps achieve optimal stereo sound.
Your projector will need a 3.5 mm audio output or a stereo RCA output so that you can connect an active loudspeaker to the projector. The 3.5mm audio output is the more common audio output for projectors.
Passive projector speakers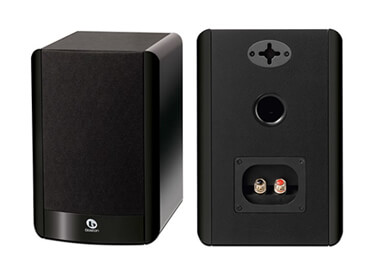 When to use passive projector speakers?
Passive projector speakers are mostly used in home cinema. However, they can also be found in large conference rooms or lecture halls.
Home cinemas use passive speakers for 5.1 or 7.1 surround systems, they can be used as a stereo system with just two speakers.. In addition to the speakers, an AV receiver (home cinema) or a stereo receiver (music & sound) is required.
The big advantage of passive speakers is that you can lay a speaker cable of different lengths from the receiver which ensures optimal installation possibilities.
In larger rooms, auditoriums or lecture halls an installation with long cables will be necessary, which almost rules out the use of an active projector loudspeaker. An advantage is that you do not have to supply the respective speakers separately with power.
However, in this situation, not only is the cost of the speaker crucial but you also have the cost of the AV receiver. Due to this, the cost for a passive projector loudspeaker solution is often higher than those of an active solution.
Passive projector speakers are connected with speaker cable to the AV receiver or the stereo receiver. The audio source is connected to the respective receiver via HDMI, stereo phono or 3.5 mm jack cable, for example.
Active and passive projector speakers
What are the pros of a projector with integrated speakers?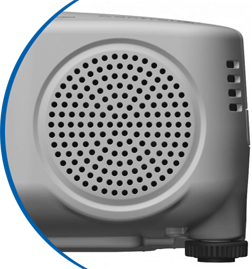 A projector with integrated speakers offers an all in one solution.
Pros: You do not need to connect separate speakers to the projector. In this case, the projector is connected with an HDMI cable and the picture and sound signal is sent to the projector.
If you are traveling with the projector, this solution is especially preferred as it means you will have less to carry, however many projectors that use an internal speaker will only provide low quality sound.
Therefore, when looking for a projector with integrated speakers, make sure that it has at least a 10 watt mono speaker. Ideally, a 10 watt stereo speaker or better, but unfortunately the choice is relatively limited as projector manufacturers increasingly rely on a mono solution for their internal speakers.
Projector's with good integrated stereo speakers are often designed for multimedia or entertainment rather than for presentations.
Projectors with good speakers
Projectors with wireless audio


Wireless speakers are becoming increasingly popular. They are connected via Bluetooth to the smartphone, tablet or notebook etc.
So why not connect a projector speaker using wireless Bluetooth? It sounds easier than it is due to the fact that Smartphones, tablets etc. have Bluetooth audio but very few projectors do currently.
The choice of devices in which the projector speakers can be connected to wirelessly is low. The projectors that do offer this option get their picture and sound via HDMI and then the sound is extracted and sent from the Bluetooth module in the projector to the Bluetooth speaker.
To keep the sound and image synchronized, the devices often rely on the aptX standard, which is suitable for transmitting high-resolution audio content.
Projectors with Bluetooth audio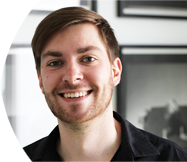 Do you still have questions about the selection of your display? We also advise you personally - we look forward to your call or e-mail! If you prefer to be called back by us for free, just leave us your contact details.
Contact form Contact person