Samsung Flip - The best replacement for flipcharts
The classic flipchart has had its day. At the center of a modern meeting, lecture or presentation is now a digital writing board. With features that greatly enhance the workflow of today. Learn more!
---
Come and see how the Samsung Flip can work for you. Arrange for a demonstration of the Samsung Flip WM55H at our premises in Norwich!
Why should I buy one?
What makes the Samsung Flip better than a typical flipchart? Almost everything! Its paperless, does not need felt-tip pens and comes with features that make it easy to present, save, and share created content. Its extremely intuitive, fast and simple. The best investment in the digital future of your company!
Contact us for Samsung Flip advice
Technical data & Key features
Resolution 4K-UHD (3,840 x 2,160)
IR touch screen
Screen size 55"/ 139.7 cm
60Hz display panel
Brightness 220 cd / m²
Contrast 4,700: 1
Reaction time 8 ms
Viewing angle horizontal 178 °
Viewing angle vertical 178 °
NFC, WLAN, USB, HDMI, RJ45
Integrated speakers 2 x 10 watts
Tizen 3.0 operating system
Optional floorstand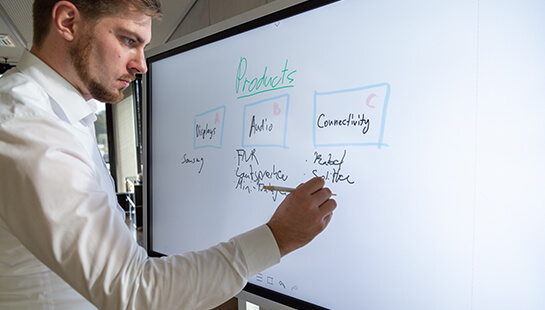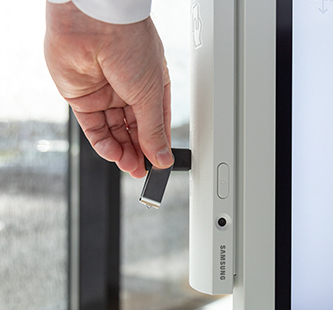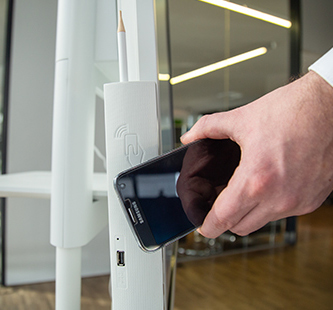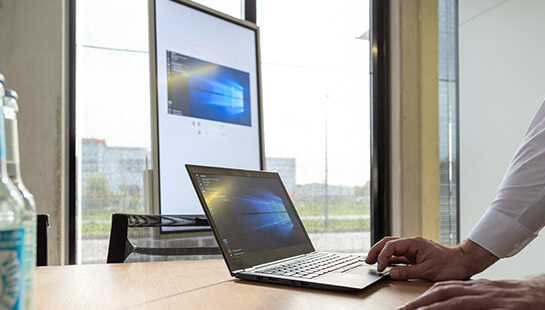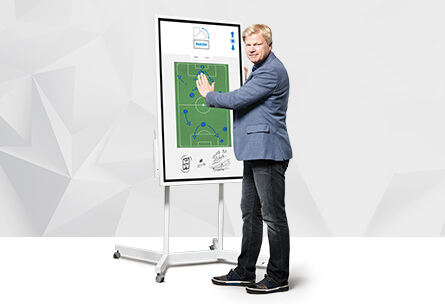 These are the biggest advantages
Paperless
Natural, fluid writing feeling
Clean, spotless work
Very good connectivity
Easy import & export
---
Samsung Flip advantages at a glance

The best writing experience
Samsung Flip offers probably the most true to life and fun writing experience among the interactive displays with touch function. Like real flipchart paper sheets, you can easily and effortlessly write and draw everything you need to bring your ideas to life.
Highest 4K UHD image quality
To ensure that every presentation, sketch or drawing is visually convincing, the Samsung Flip displays the content in high-resolution UHD image quality. This means that not only content created on the display are clear and crisp, but videos and images imported from external storage media and connected mobile devices such as smartphones, Laptops and tablets also looks great!

Optimal connectivity
Wireless or Wired: With the Samsung Flip you can connect in different ways. NFC, Screen Mirroring or even the HDMI port provide enough connectivity for devices with supported features.

Protecting your content
Protect your created Samsung Flip presentations with a password. This ensures that all content is protected from outside insights and unauthorised access.

Easy to save & share
Save all contents of your presentations on an external storage medium such as a USB stick or on a connected NAS hard drive. It is just as easy to share content: by e-mail, paper printout or screen sharing.

In addition to the native Samsung flip file format IWB, the Samsung Flip supports the following file formats: JPG, BMP, PNG, MPO, DOC, PPT, PDF.
---
Installation: One display, two options
Permanent installation or mobile use? The Samsung WM55H Flip can either be mounted on a separately available rolling floor stand and easily transported from room to room. Or mount it on the wall with a display bracket with pivot function that allows a quick change between portrait and landscape format.

We recommend a Samsung Flip Set consisting of a Samsung Flip Display and an original Samsung Flip Roll Stand.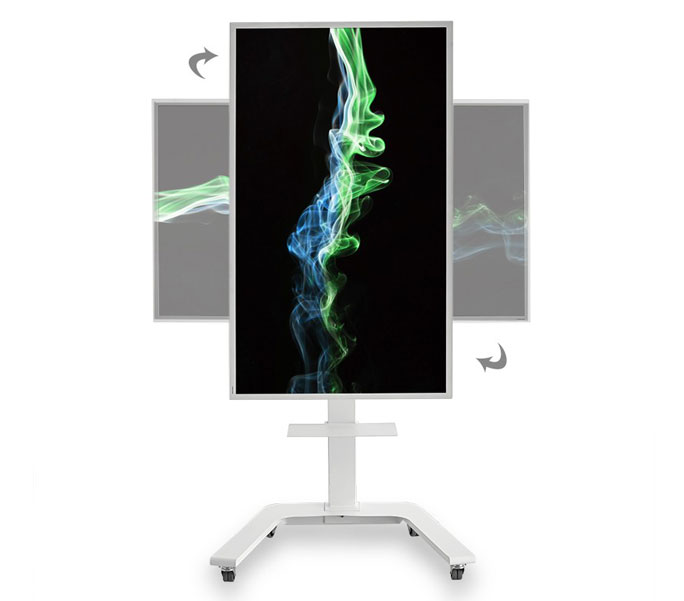 Hagor ST SA – Stand for Samsung Flip 2
Specially designed for the Samsung Flip, this stand not only looks smart, but also upgrades your Samsung Flip Display to a mobile creative tool.
Mobile stand system 65'' – Buy now!
---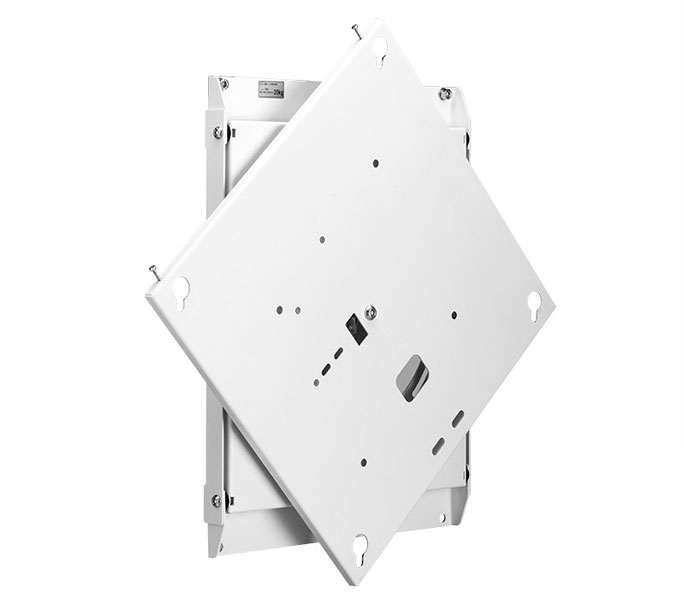 Wall mount for Samsung Flip 2
A high quality wall mount with pivot function for the Samsung flip display. For stationary use in meeting rooms, offices or meeting rooms.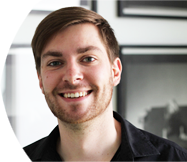 Do you still have unanswered questions? We can advise you personally - we look forward to your call or e-mail! If you prefer to be called back by us for free, just leave us your contact details.
Contact form Contact person