Expert Tips - Simply connect the projector to the Mac
The advancement of Apple computers has not only changed the design, but also the connectivity of the devices. Here's how to easily connect a projector to a Mac. Suitable for MacBook, MacBook Pro, iMac, Mac Mini and MacBook Air.
---
Quick Info - Connections
Projector connections:
Projectors has a few possible connections available. These include a VGA connection, DVI, HDMI or DisplayPort.
Mac connections:
Older Mac models (from about 2008) are usually equipped with a DVI or mini-DVI interface, from 2010 you'll tend to find the mini-DisplayPort.
Newer devices (approximately from 2013) support the modern interface protocol Thunderbolt and have a corresponding port.
Suitable cables & adapters:
Almost every projector-mac combination has a matching cable or adapter. Apple or third-party vendors provide an adapter for each combination. Frequently used adapters are HDMI-to-Thunderbolt (Apple Digital AV adapter) and VGA-to-Thunderbolt. Matching cables and adapters can be found in our shop.

Many interesting and useful tips, guides and reviews can be found on our guides and reviews page.
Our product recommendations
---
Mac with DVI connection
In older 15-inch MacBooks (from about 2008), which were available with the stylish aluminum unibody housing, a DVI connection was available.

How to: Either you use a DVI-to-HDMI adapter and connect the HDMI cable or you use a DVI to HDMI cable. In the second case, no further cable would be needed. For projectors or monitors with DVI connection a conventional DVI cable is sufficient.

Tip: The older 13-inch MacBooks, however, are equipped with a mini DVI connector. It's reminiscent of the Thunderbolt port still used on some Macs, the shape has hardly changed over the years. Use a mini DVI to HDMI adapter or a mini DVI to HDMI cable. However, Apple mainly offers mini DVI to DVI adapters.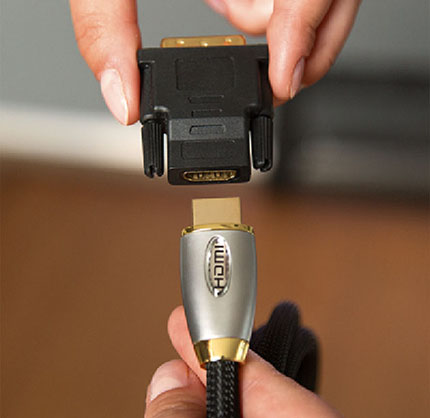 Both versions do not support audio output. The DVI, Mini-DVI and Mini-DisplayPort connection are designed for image transmission only.
---
Mac with Mini DisplayPort connector
As of 2010, the DVI and mini DVI connections were replaced by the Mini DisplayPort connection. The Mini DisplayPort looks similar to the Mini DVI connector. The shape has hardly changed.
How to: You need a Mini DisplayPort to VGA adapter or a Mini DisplayPort to DVI adapter. These adapters are also available as an original adapter from Apple.
Tip: A convenient and cheaper option is a mini DisplayPort to HDMI adapter. HAMA can provide this solution.

The advantage: With a digital signal you only have to adapt once. If you use the mini DisplayPort to DVI adapter, it is usually necessary to adapt to DVI twice and to HDMI.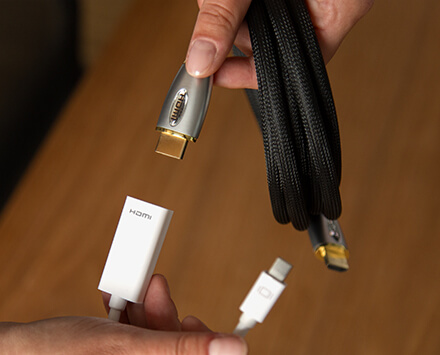 Mini DisplayPort port only supports image output.
---
Mac with Thunderbolt connection
Over time, Mac devices have been upgraded with the modern Thunderbolt port. In addition, the new connection also supports the transmission of data. Thanks to this feature, it has replaced the FireWire port on Apple's devices. Officially, Apple introduced the Thunderbolt connection in 2011. The form factor was taken over by the Mini Displayport.
How to: If you are using a Thunderbolt or Mini DisplayPort to HDMI adapter, you can route the sound via HDMI to a TV or AV receiver. This is a good solution for home cinema or video presentations.
You can transfer directly from the Mac to the projector. However, this only makes sense if your projector is equipped with speakers.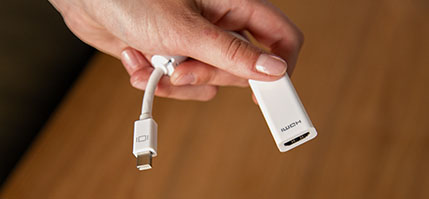 Tip: Der Thunderbolt Anschluss auf Mini-DisplayPort Stecker Basis hat sich bis heute gehalten und kommt noch bei MacBook (bis 2015), Mac Book Air (aktuell - 2018) und Mac Mini (aktuell) zum Einsatz. Wenn Sie also zum Beispiel einen Beamer am MacBook Air anschließen möchten, benötigen Sie weiterhin einen Adapter.

The slot in the MacBook, iMac and Mac is the same as the Mini DisplayPort. However, this is now marked with a lightning symbol.
---
Mac with HDMI connection
From 2012, Apple began to equip the new MacBooks and Mac Mini with an HDMI port. With that, Apple took a step towards better device compatibility.
How to: To connect the Mac to a projector, you only need an HDMI cable. HDMI cables in different lengths can be found in our shop.

Tip: Both the MacBook Pro models with HDMI and the Mac Mini offer one or two Thunderbolt ports in addition to the HDMI port. This can be used in addition to the graphical output for a second monitor as well as an external hard drives.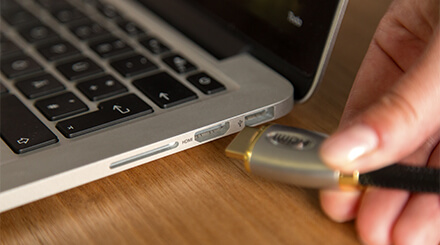 On the Mac Mini, the HDMI port is still in use (as of 2018), while it was abolished again on the MacBook or the MacBook Pro.
---
Mac with USB-C (Thunderbolt 3)
The current video connection to Apple devices is the USB-C or Thunderbolt 3 port. Together with the shrinking housings of the Macs, this port has also become smaller.
How to: If you want to connect a new Mac to the projector you will need a USB-C to HDMI adapter.
Tip: Apple is starting from the year 2016 with the MacBook (1x USB-C) and the MacBook Pro (2x or 4x USB-C) exclusively on the USB-C interface. It now serves the power supply, data, image and sound transmission.
---
Connect Mac via Wi-Fi
Of course, you can connect a Mac wirelessly with the projector.
How to: You will need a wireless solution offered separately by many projector manufacturers. Recommended is, for example, the Easy MP software solution from Epson. The software is easily installed on a Mac.

In order for the Easy MP software to communicate with an Epson projector it must have an integrated WLAN interface or be retrofitted with a wireless adapter such as the Epson ELPAP10. Matching WLAN adapters can be found in our shop.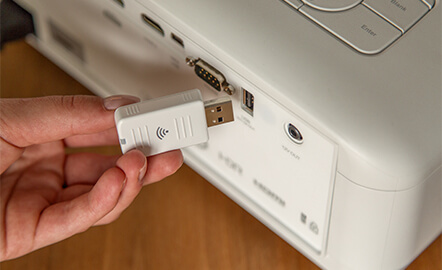 Tip: Another wireless solution is the Apple TV set-top box. Via AirPlay, this connects to the projector and mirrors (Screen Mirroring) the desktop view of your MacBook, iMac or Mac Mini.
WLAN networks in the immediate vicinity can negatively affect the transmission quality. Therefore, we also recommend a wired connection between Mac and projector.

The transmission strength via WLAN can sometimes be too low for projectors. For video transmission they tend to struggle, but for presentations with texts and pictures you should be ok!
Our product recommendations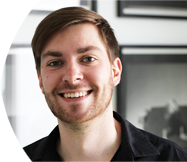 Do you still have unanswered questions? We can also advise you personally - we look forward to your call or e-mail! If you prefer to be called back by us for free, just leave us your contact details.
Contact form Contact person