Public viewing in your beer garden, pub or sports bar - Lets look!
Equip your venue this summer with a projector and screen to keep your customers captivated. We will guide you through the process.
---
Complete Projector set up
---
These 3 projector properties are important
The image quality of a projector is mainly influenced by its brightness, contrast and image resolution. Before you buy a projector, you should always pay attention to these three projector properties. The easiest way to do this is with the filters on our projector products pages.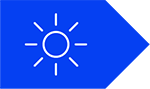 Brightness
One of the most important specifications for indoor and outdoor projection is the brightness of the projector. The higher the brightness, the easier it will be to see the image. This applies in particular to projectors that are used in bright rooms or even outside. The brightness of a projector in these conditions should be prioritized.

The brightness of the projectors is measured in ANSI Lumen For public viewing use in your beer garden, sports bar or pub, we recommend daylight projectors with several thousand ANSI lumens .
| Place of use | ANSI-Lumen |
| --- | --- |
| indoor | From 4.000 |
| outdoor | From 6.000 |
Einsatzort: indoor / ANSI-Lumen: From. 4.000
Einsatzort: outdoor / ANSI-Lumen: From. 6.000

Large projection surfaces requires a higher ANSI lumens value
Our experts will determine the optimal ratio between size of image and brightness of projector for you.Call us for a no-obligation consultation!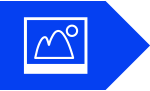 Contrast
The contrast in a projection is the ratio or difference between the brightest pixel and the darkest.The greater this difference, the better the contrast the projected image has. High-contrast images appear livelier and more exciting than low-contrast images.

As with displays, monitors and televisions, you will find that contrast ratios usually start from around 10000:1
| Rating | Contrast |
| --- | --- |
| Good | From 10.000:1 |
| Very Good | From 2.000.000:1 |
Bewertung: Good / Contrast: From. 10.000:1
Bewertung: Very Good / Contrast: From. 2.000.000:1

Contrast varies greatly depending on the light output of the projector, the projection technology used and the light source used. When projecting, you should therefore pay more attention to the light output of the projector.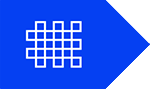 Image resolution
A good, sharp projection image requires a high image resolution. You can get this with an HD ready, or even better, Full HD projectors Especially since public broadcasters will broadcast programs in 720p.

Both image resolutions correspond to the 16:9 format and can therefore be perfectly scaled to fill the format on 16:9 screens. You can easily determine the optimal seat spacing for HD and Full HD yourself.
| Image resolution | Optimal seat spacing |
| --- | --- |
| HD ready (1.280 x 720) | Screen width x 1,8 |
| Full HD (1.920 x 1.080) | Screen width x 1,5 |
Bildauflösung: HD ready (1.280 x 720) / Optimal seat spacing: Screen width x 1,8
Bildauflösung: Full HD (1.920 x 1.080) / Optimal seat spacing: Screen width x 1,5
Quick tip: The rule of thumb for the optimal seat spacing is: The lower the image resolution, the greater the seat spacing should be.

Tip: We advise against projectors with an image resolution below HD(1280X720) as the image of such projectors looks pixelated and blurred on large projection surfaces
---
The Best Projection For Public Viewing
Different projection technologies are used in projectors depending on the manufacturer and projection model. The most well known projection technology include DLP (Digital Light Processing) and LCD(Liquid Crystal Display)

Both DLP and LCD projectors have their strengths and weaknesses, however, you should not base your selection for a public viewing projector purely on this and should consider the light intensity of the projector more.
Projection technology
Advantages
Very good colour reproduction
Sharp image quality
Brighter than DLP
Excellent contrast
Large selection of 3D projectors
Typically lower in cost

Vorteile

Very good colour reproduction

Sharp image quality

Brighter than DLP

Vorteile

Excellent contrast

Large selection of 3D projectors

Typically lower in cost
---
Top projector features for public viewing
Some features found in projectors can drastically simplify the installation and alignment of the projector or improve the quality of the projected image. Here are our top 3 projector features for public viewing both indoors and outdoors

Lens shift
The projected image of a projector with lens shift can be offset horizontally, vertically or on both axes by a certain distance depending on the lens shift type. This is extremely useful for aligning the image as the projector itself does not have to be moved.
---

Interchangeable lenses
Interchangeable lenses allow more flexible placement of the projector. Depending on the focal length of the lens used, you can reduce or increase the distance between the projector and the screen.
---

Interframe Calculation
Interframe calculation (frame interpolation) is used to increase the frame rate for fast movements within a video sequence. This makes the movements more fluid and supple. This feature is particularly noticeable during football broadcasts.
---
Project with or without a screen?
You can project onto any surface with a projector. For professional use it is recommended that you use a projector screen. The projected image on a screen compared to on a plain white wall is far superior as well as having good color reproduction and better contrast.
Mobile screens for outdoor use

Mobile screens are easy to transport and easy to assemble. They are ideally suited for outdoor beer gardens or on the terrace in front of a restaurant. Our mobile screens include tripod screens, ultra mobile pull up screens and mobile frame screens. For outside we recommend a mobile folding frame screen.
Top 5 Mobile screens for outdoors
Installation screens for indoors

Installation screens must be firmly mounted. The assembly of an installation screen is more complex than that of a mobile screen but only needs to be carried out once. Installation screens include Electric screens, recessed ceiling screens, and frame screens.
Top 5: Installation screens for indoor use
The right screen format
Screens are available in a range of formats to match the format of the projector. Ideally, a projector and screen should have the same format in order to fill the projection surface evenly. That means: A 16:9 screen is perfect for use with a 16:9 projector.

In principle, however, you can use any format of screen (4:3, 16:9, 16:10 and 1:1) with any projector. A 1:1 screen can have some advantage here as it gives you the most viewing area to play with. On a 1:1 screen you have the most vertical space of any screen meaning you can freely aim your image at the screen to a height that suits you - just bear in mind that you will have a large white border that you will not be able to fill.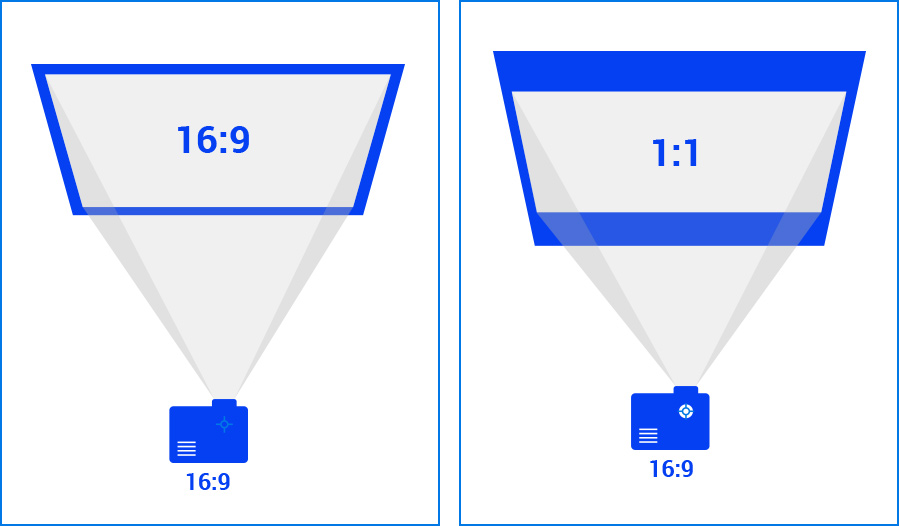 The reflectivity of a screen is measured in gain.Common gain values for front projection screens are between 1.0 to 1.5. For rear projection, you usually need screen fabric with a gain of 2.0 or higher.
Benefit from expert knowledge! And find out everything about projector screens in our projector screen purchase advice page.
---
A Big Screen Summer Hit: Inflatable screen from Celexon
Inflate instead of assembling: The inflatable outdoor screen from celexon has the potential to become a summer hit in 2021. It is light and can be assembled and disassembled without tools .With an image width of 3 meters , it is the perfect size for an important football match or cinema screening.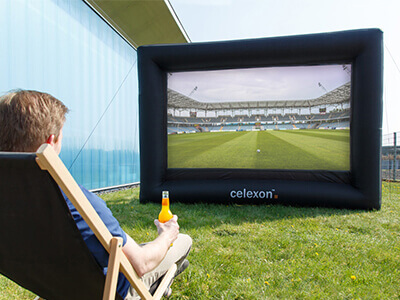 PVC front projection cloth with surrounding black frame
Screen fabric impervious to light
Size of the projection surface: 310 x 174 cm (WxH)
16:9 format
Projection cloth with Velcro strips around the back
Includes powerful pump
Suitable for indoor & outdoor use
Small packing size 75x40x40 cm
Quick assembly and disassembly without tools
Light weight: 15kg
More information in the blog
Buy now
---
These projector speakers are good for public viewing
An important factor to consider when putting on an event is the background noise in a stadium. the goal celebration and of course the suspense-charged comments from the game commentators. You need good projector speakers so that the atmosphere is transferred to the audience in front of the screen. You can choose between passive and active speakers.
Passive speakers
Passive speakers are used in conjunction with an AV receiver or a power amplifier. That is why they are mainly suitable for closed rooms, in which they are usually positioned and installed as a 5.1 surround system.

The advantage:long cable runs are possible
Active speakers
Active speakers manage without additional amplification, however, they need an external power supply which limits the positioning due to the limited amount of power cable length.

The advantage: active loudspeakers do not need an additional amplifier. They can be connected directly to the projector via a 3.5 millimeter jack. Perfect for outdoors!
Daylight Projecting: How to Darken Properly
Daylight projection is pretty hard, even with a bright projector. To ensure you get the best picture brightness from your projector, it is always recommended that you minimize the amount of light in the area you are projecting. For indoor environments, it's best to switch lights off or close blinds or curtains. For outdoor use, it would be a good idea to cover the screen area with some sort of covering to shield direct sunlight. It would be advisable to source a very bright daylight projector.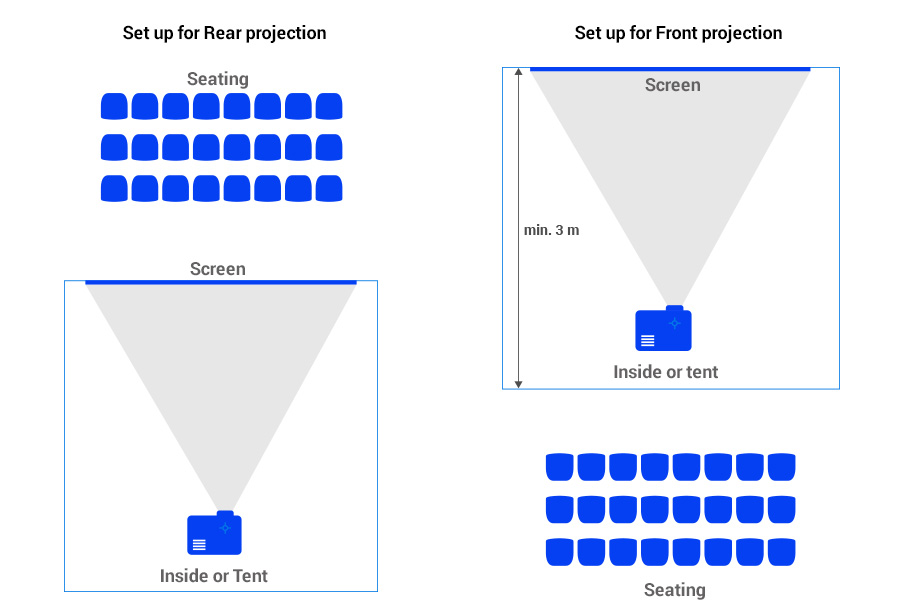 How to project outside in daylight:
1.Use a covering or tent with closed sides and back
2. Use opaque material for shielding (no white)
3. Shield screen and projector from stray light
4. Lay cables securely or project wirelessly
Video tutorial: In this video, we show the setup and correct positioning of the projector for a front projection in daylight.

You can find out how to connect a projector on the page Connecting a projector correctly.
---
Set up and connect the projector correctly
Connecting a projector correctly is not difficult and in most cases it can be done by one person without any problems. In the event that you want to ceiling mount the projector, you might need an extra pair of hands.
3 Quick tips to setting up your projector
1.Connecting via HDMI, Display port, VGA or wirelessly
2. Set up the projector parallel to the screen
3.Use the projection distance calculato to determine how far back to place the projector

Our guide pages will help you connect and position the projector.
Public viewing on a display
Bright projectors or large LED walls are usually used for public viewing. If both a projector or an LED wall is not an option, you can opt for a display as an alternative. Displays captivate audiences with their vibrant colours and consistent brightness levels along with its great picture quality.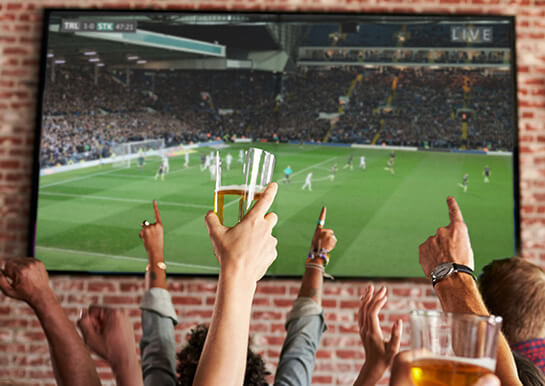 4K image resolution
Long lifespans
Little to no maintenance
Bright, regardless of lighting conditions
More cost effective than LED walls
Paperless presentations
Can be used as advertising space
Uncomplicated installation
Flexible seating
Universal set up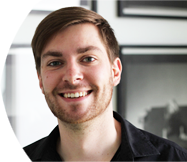 If you still have some questions regarding your set up, our professional advisors are available either by phone, email or live chat
Live-Beratung contact form contact Person