Gaming Projector - Big screen action to rock the room!
Play with your friends and supersize the experience! A gaming projector brings you together for a brilliant gaming evening that will quickly become a tradition.
Next zombie attack wave coming? Your buddy covered your back in that Co-op game: on the Split Screen he just sent a horde of zombies into the afterlife with a skilful grenade throw. Now relax, eat some snacks and thank your Brother-in-Arms. Get ready to go again!
The giant image from a gaming projector is perfect for enjoying video games together. A TV does not compare with the extra social appeal of a modern projector. In front of a projector screen all your friends can gather and on the screen there is enough space for action of every game genre.
All gaming projectors

Do you already know our gaming projector complete sets?
---
---
What can I play on a gaming projector?
You can play anything you and your mates fancy. You'll definitely love these genres on a gaming projector. Find your own favorite!


First person shooter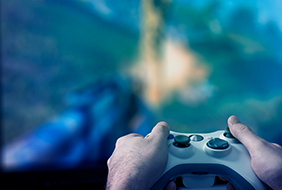 On a split screen, you team up or fight against each other, fighting side by side or swapping guns to defeat your opponents.
Sports games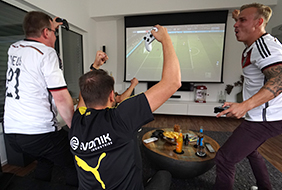 It does not always have to be shooting games. You can also play sports games, there are a wide variety to look at! Throw a touchdown, score a goal or get a hole in one on a lifesize screen!
Racing games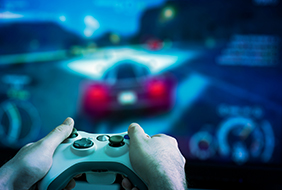 On a projector screen, your field of vision is huge, compared to a monitor or TV. Every drift through the corner drives up your adrenaline level. Use the split screen to knock your friend off the track and drive into the distance!

You can also let off steam with single-player games: Atmospheric horror, sci-fi and role-playing games look particularly good on a projector screen.

Projector knowledge for gamers
Resolution


At least Full HD (1920x1080). This will mean you not only use the full potential of the native resolution of a game console, but also watch Blu-ray movies in excellent picture quality on your PS4, Xbox One or Wii U.
Brightness


ANSI lumen value of at least 2000 lumens. Generally we recommend you darken the room before playing allowing you to get a high-contrast and bright projection image.
Connections


An HDMI connection is required. You transfer high-resolution content to the projector via an HDMI cable. That means: games and movies in Full HD.
Want to know more about projectors? In our blog you will find projector tests, news and many more exciting articles about audio and video topics.
How to set up your gaming projector properly
The most important rule: Place your projector as parallel to the screen as possible. This means you will avoid a crooked orientation of the image and quality loss in image resolution.


You have several options to properly set up your projector. Either you can
Place the projector on a firm, flat surface a few metres in front of the projection surfacen
or, if you are using of a short throw projector, sometimes just a few centimeters in front of the screen
In our projector buyers guide we give you tips on how to determine the optimal seating distance and tips on how to place the projector properly.



The right screen for gaming projectors
You can project on a blank wall, however you will get a much better picture quality if you pair your projector with a projector screen. Projector screens have a cloth structure specially developed for projectors, which slightly amplifies the reflected light and makes colours appear natural.
For gaming we recommend a screen with the following features:


Format


16:9 or 16:10 Advantage: This format is also perfect for home cinema
Luminance factor (gain)


Values ​​1.0 to 1.5 are sufficient for darkened rooms
Mechanism


You can look like a boss and bring down your electric screen at the touch of a button. Do you want to lend a hand? Then look a manual screen instead.

Tip: Use our screen calculator to find the right screen size for your room. Want to know more about projector screens? On our projector screen page you will learn everything about projector screens.
---
Matching sound for your gaming projector
Of course, you do not want to miss out on good sound with an XXL image. You need sound as big as the picture! Airborne projectiles, cheers from the stadium grandstands, squealing tires: all of this comes into its own when the action on the screen is supported by the surround sound. And that's what you need:


AV receiver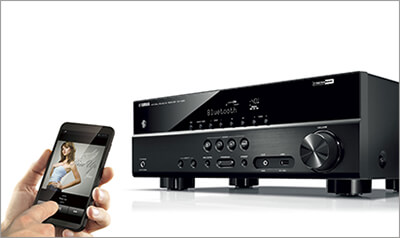 5.1 surround speaker set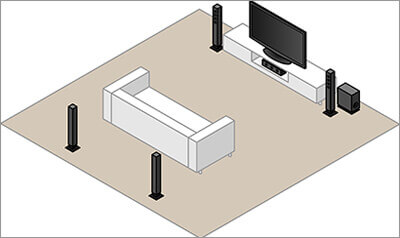 If you already own a video projector and are looking for a suitable surround system, please ask one of our audio experts.

By the way: We've also put together complete sets for gaming. A projector, a projector screen and of course a cool audio system are included in the set.
---
Buy Gaming projector Complete Set
We have put together three gaming projector complete sets for you. Each set contains everything you need to upgrade your living room to a gaming temple.
The gaming projector complete sets from visunext have been lovingly put together for you by our gaming fans. To be honest, we would like to keep them ourselves, but it's good to share!


Other items of interest!
Popcorn machines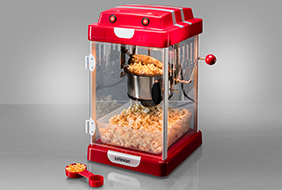 What better snack for a Hollywood blockbuster. A small, chic popcorn machine provides you and your friends with delicious popcorn and creates a cinema atmosphere.



To the products
VR glasses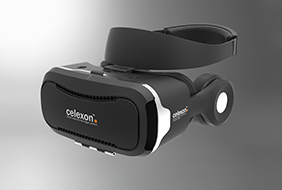 Give yourself and your projector a break! Relax with your favorite VR app in virtual smartphone worlds. Buy Celexon VR glasses and experience maximum comfort.



To the products
Gaming Monitors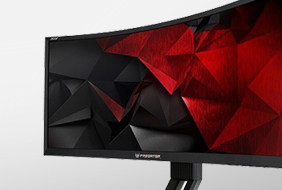 Your computer needs attention, your e-sports ambition a responsive screen? With our wide selection of monitors, you'll surely find one that fits your gaming style and sweetens the time before the next projector game session. Do you want to buy a good gaming monitor? Then pick one here now here one from.



To the products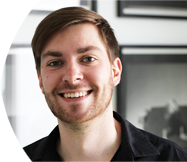 Do you still have unanswered questions? We can also advise you personally - we look forward to your call or e-mail! If you prefer to be called back by us for free, just leave us your contact details.
Contact form Contact person