How to find a suitable home cinema projector
Learn all the essential selection criteria before buying a good home cinema projector in this buying guide. In addition, we explain in a compact and comprehensible manner which screen and surround system best suits your home cinema. The fastest and easiest way to get started with a home cinema in 2022!
---
Complete home cinema: projector, screen and surround system
A classic home cinema system consists of three components: a Projector ports:, a projection screen and a surround system , including an AV receiver for a grandiose cinema sound. If each home cinema component is selected appropriately, they can even be a little cheaper. However, we do not recommend the cheapest models. You should rather buy tested devices from well-known manufacturers.

Tip: you can find a selection of test winner home cinema projectors in our Projector Best List
Top 5 home cinema projectors 2022
A good home cinema projector can do that
If you want to buy a home cinema projector pay special attention to the following 4 quality features of a home cinema projector. A good balance between these features ensures a good quality home cinema projection.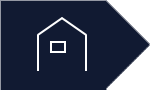 Suitable space for the home cinema
The condition and size of the room play a very important role in home cinema. These two factors determine which projector, which type of screen and which home cinema system setup is best suited.
This is what you should consider: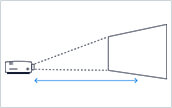 Projection distance
Depending on the type of projector, you need more or less distance between the projection surface and the projector. Our Projection surface calculator can help you to determine this distance.
Room darkening
Ideally, you should always darken a home cinema room. If this is only possible to a limited extent or not at all, a projector must have correspondingly high brightness values. However, there is a trade-off: the brighter the projector, the lower the contrast.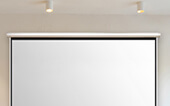 Space for the screen
Depending on the type of screen, you will need some space on the wall or ceiling for mounting the screen. Make sure that the screen is mounted on a solid surface.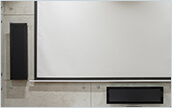 Space for surround speakers
You will also need enough space for the installation of your surround system. This is especially the case if you want to install a larger number of surround speakers. The speakers should never be covered by the screen.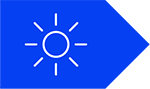 Brightness
As simple as it sounds: the brighter the image, the better you can perceive it in a bright environment. However, the inevitable consequence is getting lower contrast levels. It is therefore important to find the optimal balance for the room in question. A picture that is too bright quickly appears dull. A projector with high brightness will only offer average contrast levels.
The brightness values of projectors are given in ANSI lumens. Sufficient brightness values for home cinema are in the four-digit range. Beginning at 1,500 Lumen you can expect a good quality that makes watching movies fun.
However, we recommend projectors with even higher lumen values: from about 2,000 lumen you will get a good home cinema picture even in rooms that are less darkened.
| Brightness assessment | ANSI lumens |
| --- | --- |
| good | from approx. 1,500 |
| very good | from approx. 2,000 |
ANSI lumens: from approx. 1,500
Brightness assessment

good
ANSI lumens: from approx. 2,000
Brightness assessment


very good

If possible, always darken your home cinema room. This increases the quality of the picture and contributes to the atmosphere of your home cinema.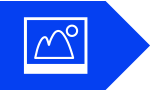 Contrast
Contrast is the visually perceived difference between the light and dark areas of an image. In relation to projectors, this refers to the brightness contrast. The higher the contrast, the more exciting a film scene or image appears (the same happens with photographs). This is why contrast is a very important quality feature of a projection image.
Contrast is given as a ratio. For example, the contrast specified at 1,000:1 means that the difference between the darkest point and the brightest point is one thousand units.
Projectors with HDR compatibility now provide a particularly high contrast range. HDR (High Dynamic Range) provides a high contrast gradation. This not only has a positive effect on the black level but also on the colour representation.
In reality, the manufacturer's specifications concerning the contrast of a projector can be inaccurate. For example, you can often see in the data sheets that 3LCD projectors tend to have a lower contrast than DLP projectors. Don't let this mislead you, so follow the specifications in the table below. They apply to all home cinema projectors with the proven projector technologies.
| Home cinema projector class | Contrast |
| --- | --- |
| Entry | from approx. 20,000:1 |
| Middle class | from approx. 80,000:1 |
| Upper class | from approx. 500,000:1 |
Home cinema projector class: Entry
Contrast: from approx.: 20,000:1
Home cinema projector class: Middle class
Contrast: from approx.: 80,000:1
Home cinema projector class: Upper class
Contrast: from approx.: 500,000:1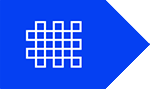 Image resolution
Image resolution is also popularly known as image sharpness. And indeed, images with higher resolution appear sharper than those with lower resolution. This allows us to see more details and nuances in images, and this is what true cinema enthusiasts really get excited about.
However, hunting for the highest possible resolution should not be the highest priority. Even with the WXGA resolution (1,280 x 800) you can get a detailed home cinema picture. However, we recommend a projector with Full HD resolution. This image resolution is part of the image quality standard, thus, it offers a very good depth of image detail.
The champions of image sharpness are undoubtedly 4K projectors . They shine with an outstanding image sharpness and an unbelievable richness of detail. 4K projectors come in two types of resolution 3,840 x 2,160 and 4,096 x 2,160 . The latter is referred to as the "real" 4K resolution, although in reality there is barely any noticeable difference between the two.
The image format is closely related to the image resolution. For example, a Full HD projector uses a 16:9 format, while a WXGA projector uses the 16:10 format. There is a suitable screen for every image format.
| Image resolution | Image format |
| --- | --- |
| Full HD 1,920 x 1,080 | 16:9 |
| WXGA 1,280 x 800 | 16:10 |
| 4K (UHD) 3,840 x 2,169 | 16:9 |
| 4K 4,096 x 2,160 | 16:9 |
Image resolution: Full HD 1,920 x 1,080
Image format: 16:9
Image resolution: WXGA 1,280 x 800
Image format: 16:10
Image resolution: 4K (UHD) 3,840 x 2,169
Image format: 16:9
Image resolution: 4K 4,096 x 2,160
Image format: 16:9
The right screen for the home cinema
When choosing a screen, you should take the following characteristics into consideration: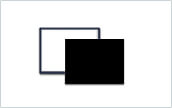 Front or rear projection screens
Projection screens are available for both front and rear projection. Front projection screens are best suited for home cinema. . Rear projection screens require a lot of space. This is why they are more widely used in the business sector.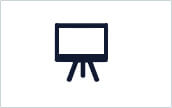 Type of screen
There are two types of screens: stationary and mobile screens. Stationary screens are permanently mounted, while mobile screens are easily transported from one location to another and can be set up quickly. For home cinema we recommend a stationary screen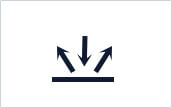 Gain factor
Gain factor or light density factor is a measure of the reflectivity of a screen. The higher the gain value, the more strongly a screen reflects the light projected on it. This means that with increasing values of the gain factor the image gets brighter, but the viewing angle gets smaller. For a home cinema, the most suitable screens are those with values between 1,0 und 1,2 gain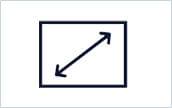 Screen format
The typical home cinema screen format is the 16:9 format. Most Hollywood movies are shot in format and therefore fit perfectly on projection screens with this ratio. Moreover, the popular Full HD resolution has this aspect ratio. Of course, it is also possible to project other screen formats such as 16:10, 4:3 or 1:1. In this case, a part of the screen surface remains unused. It is recommendable to use a screen true to the projector format so that the black border encloses the image.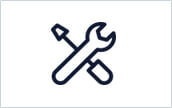 Screen operation
Depending on the model, screens can be unrolled and rolled up either by hand or by a built-in motor. Screens with a built-in motor are usually more expensive but they also offer the best comfort. Cost-effective alternatives are roll-up screenswhich are operated manually.
| Operation by hand | Operation with motor |
| --- | --- |
| | |
| Roll-up screen | Motorised screen |
| | |
| Crank-operated screen | Built-in ceiling screen |
Operation by hand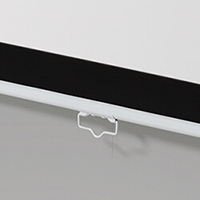 Roll-up screen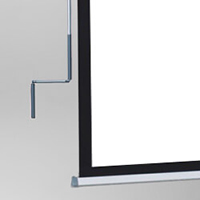 Crank-operated screen
Operation with motor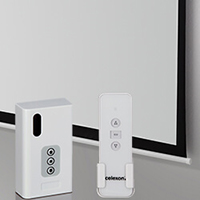 Motorised screen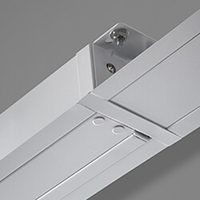 Built-in ceiling screen

For a high-end home cinema we recommend a framed screen. In this case, the screen cloth is stretched tightly in the screen frame. This prevents the formation of wrinkles that reduce the quality of the image.
Top 5 Home cinema projection screens 2022

Ultra-short throw projectors: Fast home cinema without a screen
Set up the projector, switch it on, put it in the right position, and you are done: this is how fast you can get started with your home cinema if you use an ultra-short throw projector. These projectors are usually compact, lightweight and easy to set up. The main advantage is that they project an image from a very short distance (a few centimetres!). They can project images with a diagonal of up to 2 metres and directly onto a free, white wall or surface. No screen necessary!
Advantages
Disadvantages
best type of projector for small spaces
relatively expensive
easy setup
relatively low light output
screen diagonal up to 2 metres
no high-end home cinema
No screen necessary!
also available in Full HD
Advantages

best type of projector for small spaces

easy setup

screen diagonal up to 2 metres

No screen necessary!

also available in Full HD
Disadvantages
relatively expensive

relatively low light output

no high-end home cinema

Tip: : To get a better image quality use special projection screen paint . For example, we can recommend the one from Screen Goo. You can also use a framed screen. Other types of screens are not suitable.
Top 5 home cinema ultra-short throw projectors 2022
The best projection technology for the home cinema: LCD or DLP?
Two projection technologies dominate the home cinema market: DLP and LCD. About 80 percent of home cinema projectors work with either DLP or LCD. The remaining 20 percent use other projection technologies such as LCoS, SXRD and D-ILA.
DLP (Digital Light Processing) is a projection technology in which the image is generated by means of micro-mirrors. The mirrors are arranged in a so-called DMD chip (Digital Mirroring Device). Each mirror is electronically controlled and projects one pixel at a time. Colour is provided by a rapidly rotating colour wheel placed in front of the projectors' lamp. The best known manufacturer of DLP beamers is Acer
LCD (Liquid Crystal Display) projectors use liquid crystal panels to generate images. Individual pixels of the panels are darkened or brightened by electronic control. One LCD panel is used for each basic colour (red, green, blue). One of the most well-known LCD projector manufacturers is the Japanese company Epson
The most significant difference between LCD and DLP: LCD flatters the eye with a stunning colour display, whereas DLP delivers intense, high-contrast images.
Projection technology
Advantages
very good colour representation
very good colour fidelity
rich colours
very good contrast
wide variety of 3D projectors
higher fill factor
Projection technology

Advantages
very good colour representation
very good colour fidelity
rich colours

Advantages
very good contrast
wide variety of 3D projectors
higher fill factor

Maybe buy a home cinema projector with LED or with lamp?
Most home cinema projectors use a mercury lamp as light source. These lamps are powerful and achieve high levels of ANSI lumens. However, the use of mercury causes permanent damage to the environment and is therefore a cause for concern. Moreover, conventional projector lamps have a relatively short life of around 5,000 to 6,000 operating hours . After that most projector lamps need to be replaced.
Projectors with LED panels for light generation are now competing with conventional lamp projectors. LED projectors are more energy-efficient than lamp projectors, they also last longer, with a lifespan of approx. 20,000 operating hours , and they are not so harmful to the environment. The biggest disadvantages of home cinema projectors with LED are their weak light output compared to lamp projectors and the limited choice in the market.
If you darken your home cinema room sufficiently, then a LED projector can also be an impressive home cinema projector.
Top 5 LED Projectors for the home cinema
What is a suitable home cinema system?
A good home cinema sound system is another important part of home cinema. It is the room-filling sound that creates the experience of you being in the movie theatre.
A classical home theatre sound system consists of an AV-Receiver , several surround speakers and a subwoofer for a strong bass sound. Most home cinema fans use a 5.1 Dolby surround system .



Somewhat more sophisticated but also much more exciting are and surround sound systems. Here, the surround sound comes into its very best. This, of course, depends on you having an appropriately large home cinema room for installing additional surround speakers and an AV receiver that supports additional sound channels.
If you want to experience the real three-dimensional sound, we recommend modern AV receivers that support 3D audio format (Dolby Atmos, DTS:X, Auro 3D). In combination with Atmos-compatible speakers or ceiling speakers, you can then expand your surround system to include sound from above.

We arranged complete home cinema sets for you.
The most important home cinema projector connections
There is no such thing as the most important connection. However, HDMI is an established connection for multimedia. It transmits digitally picture and sound in a quality suitable for home cinema (even 3D in Full HD). If your home cinema projector has such a connection, you can use any HDMI-equipped player such as a Blu-ray player or DVD player.

4K beamers use an HDMI 2.0 connection. From HDMI 2.0a upwards, they support the feed of HDR signals.
Connections such as DVI-I or VGA are also often among the standard connections of a projector. They are rather unsuitable for home cinema, as they only transfer image data. They do not transmit copy protection and their image quality is inferior to the one offered by HDMI.

You can find information and tips to all the projector connections on our page "Connecting the projector".
Our product recommendations
Projector features for home cinema
Special projector features can significantly enhance your home cinema experience:

Frame Interpolation
For lovers of action movies and explosive Hollywood films, interframe calculation is mandatory. Projectors with frame interpolation recalculate the frame refresh rate for fast scenes and add recalculated images if necessary. This makes film scenes appear more fluid.
---

3D capability
If you want to enjoy 3D movies in your home cinema, the projector should of course be 3D capable. Make sure that the projector is not only 3D ready, but that it can process the 3D signal via HDMI.
---

LensShift
With LensShift you can optimally align the projection image without distortion. The vertical LensShift included in most projectors allows you to shift the image vertically. More expensive home cinema projectors often have an additional horizontal LensShift, which also allows the image to be shifted horizontally. Both features are extremely practical: they give you more freedom to position the projector.
---

HDR compatibility (High Dynamic Range)
Some modern home cinema beamers are HDR-compatible. In combination with players that support an extended contrast range, you will get a much higher-contrast and therefore more detailed home cinema picture. For the moment, HDR compatibility is only present in 4K projectors.
---

Rec. 2020 Compatibility
Rec. 2020 is a recommended standard that defines quality characteristics of high-resolution UHD formats. Similar to HDR compatibility, content from devices that also comply with the Rec. 2020 standard can be reproduced with a significantly higher image quality.
---
Home cinema projector accessories
Although these accessories are not at all mandatory, they will add the finishing touches to your home cinema.

Delicious popcorn made in an authentic design popcorn machine gives the pure cinema experience!

Get additional 3D glasses to experience home cinema together with family or friends.

Robust projector brackets for ceiling mounting – they will save space and are really easy to install.

Equip your home cinema projector with a wireless HDMI set and transfer the home cinema picture wirelessly from a computer or Blu-ray player to the projector.
---
You might also be interested in this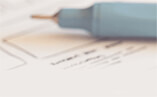 Includes the most important information about buying a projector: technology, features, installation and much more.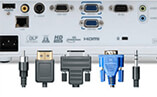 Connecting a projector does not have to be difficult. It will be even easier with these instructions.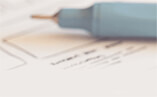 Projector and screen complement each other. Here, we explain to you what role a good projection screen plays in getting the best of a projector.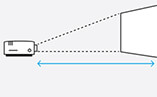 A practical tool for calculating the right projection distance and size. Give it a try!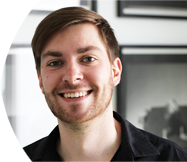 Do you have any more questions? We are happy to help you personally – we look forward to hearing from you through e-mail or through telephone. If you would rather have us calling you back free of charge, simply leave us your contact details here.
Contact form Contact person